Circuses to be banned from using performing wild animals
Wild animals will no longer be made to perform in travelling circuses under proposals being developed by Defra.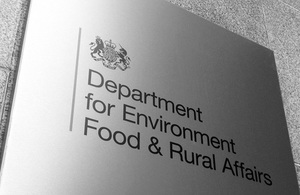 The Government will seek to introduce primary legislation at the earliest opportunity to achieve its much-stated desire to ban travelling circuses from using performing wild animals.
In the meantime, owners of travelling circuses will be required to meet tough new licensing standards, which will ensure high welfare conditions for wild animals, following the publication of the Government's consultation on a circus licensing scheme.
Animal Welfare Minister Lord Taylor said:
"There is no place in today's society for wild animals being used for our entertainment in travelling circuses. Wild animals deserve our respect.
"We have said many times we wanted to ban this outdated practice, but before we could do that there were serious legal issues we had to consider.
"We are developing proposals to introduce a Bill as soon as Parliamentary time allows. In the meantime we are introducing a Circus Licensing Scheme to ensure decent conditions for wild animals in travelling circuses."
A consultation on the new welfare licences has been published today. Anyone responsible for a travelling circus that uses wild animals in a circus performance will need to hold a valid licence, meet strict welfare standards, prepare and follow plans for caring for every animal and have a retirement plan for each animal.
The proposed welfare standards will cover all aspects of life for a wild animal in a travelling circus environment including:
Good accommodation and housing whilst being transported, at a performance, and in winter quarters;
Full veterinary care;
Controlling carefully who has access to the animals;
Diet including food storage, preparation and provision;
Environment such as noise and temperature; and
Welfare during training and performance.
The licensing scheme will be enforced through inspections by a dedicated Government-appointed inspector and paid for by the circuses.  The consultation will close on 25 April 2012 and draft Regulations will be brought before Parliament by the summer.
If any circus owner decides they do not wish to keep their wild animals Defra will work with them and animal charities to help them consider the best options available, such as re-homing the animals.
A ban on ethical grounds of wild animals performing in travelling circuses requires primary legislation. Therefore Defra is developing proposals to realise the Government's desire to introduce a ban.
Notes
Further information can be found at www.defra.gov.uk/wildlife-pets/zoos/circuses/
The consultation on the new licensing scheme will run from 1 March 2012 to 25 April 2012.  A copy of the consultation can be found at www.defra.gov.uk/consult/2012/03/01/circus-animals-1203/
The number of wild animals in circuses fluctuates and is currently between 35 and 50 which includes tigers, camels, zebras and snakes. There are now no longer any elephants kept in circuses in the UK.
All kept animals in England including in circuses are covered by the Animal Welfare Act 2006. The new licensing system will be brought in through the Act.
Animal welfare is a matter for the devolved administrations of the United Kingdom.
Published 1 March 2012