Church groups can bond communities, regardless of faith
Communities Minister Andrew Stunell said this week that church leaders are in a unique position to connect people from different faith groups…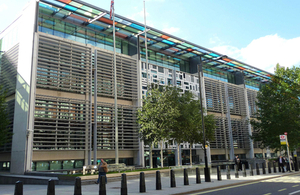 Communities Minister Andrew Stunell said this week that church leaders are in a unique position to connect people from different faith groups and to get communities involved in local action.
He paid tribute to the important community work that so many faith based organisations are engaged in and encouraged church groups to use their embedded links in society to put localism into action, whether it's running local youth clubs and campaigns, or simply acting on behalf of a local area.
Mr Stunell made the comments at a speech to senior figures from London churches in Southwark. Representatives from across the Christian denominations gathered to explore ways in which the church can practically engage with the priorities of the Big Society.
Church leaders were encouraged to identify any barriers they encounter when providing services to the community - such as any regulations, byelaws, planning rules or legislation in the way of community action. The Minister also asked how churches can link up with other faith groups and share their skills and knowledge to increase the positive effects of their good work.
Mr Stunell said:
Churches and other religious establishments do a huge amount to improve neighbourhoods and support vulnerable people. They often have a better reach into communities than other organisations, with strong networks on the ground and a significant presence at the heart of their neighbourhood.

This means they are often best placed to bring local people together - of any religious or cultural background - and work with them to achieve common goals.

My Department can help remove unnecessary red tape or legislation that some currently face - and which are likely to be common to all faith based community projects. This, along with measures in the Localism Bill, will mean that groups are empowered to carry out their work even more effectively.

Today's meeting has been a valuable chance to explore the new opportunities for practical action that localism will bring about.
There are hundreds of examples of churches and other faith communities already providing services and support beyond the limits of their congregation. These include:
The Springfield Project, run by St Christopher's Church, has provided a youth group, day care and family support services to a multi-faith community in inner city Birmingham for the last ten years. Their new purpose-built children's centre is run through a partnership between the council and the church.
The multi-faith "Faiths4Change" initiative helps faith communities from across the North West work together and with other local residents. By offering training and advice on issues of sustainability and social justice, they help local people improve their neighbourhoods and strengthen relationships across the community.
Today's event, attended by around 80 church leaders, is one in a series of discussions Ministers are attending to hear first hand the ideas and concerns of various communities.
Other speakers at the meeting included Jon Cruddas MP and Debra Allcock Tyler from the Directory of Social Change.
Notes to editors
The conference, held on 19 January 2011, was organised by the London Churches Group, Mission in London's Economy and the Diocese of Southwark Public Policy Group.
An online barrier busting service was launched by DCLG last year. This allows councils, community groups and individuals to submit information on bureaucratic barriers standing in the way of community action in their area. The new barrier busting web address is: barrierbusting.communities.gov.uk.
The Localism Bill, which had its second reading in Parliament this week, includes radical plans to push power out from Whitehall to local councils and communities. Details on the measures in the Bill can be found here: www.communities.gov.uk/documents/newsroom/word/1795339.doc (Word, 67kb).
Twitter
Keep up to date with the Department by following us on Twitter (external link).
Media enquiries
Visit our newsroom contacts page for media enquiry contact details.
Published 20 January 2011