Press release
Christmas message to civil society organisations
Minister for the Cabinet Office Francis Maude and Minister for Civil Society Nick Hurd's Christmas message to civil society organisations.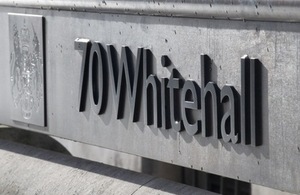 Minister for the Cabinet Office Francis Maude and Minister for Civil Society Nick Hurd's Christmas message to civil society organisations. 
Message from Francis Maude
I know this Christmas many of you will be working hard to bring a bit of cheer to those people who might otherwise be left out of the celebrations. 
Nick and I have both been enormously impressed with what your organisations have achieved in every part of the country - often stepping in and quite literally changing lives where the state has tried and failed.  This kind of social action, the culture of volunteerism and philanthropy are at the very heart of the Big Society, and next year we will continue to do everything we can to support your hard work and make sure your efforts don't go unnoticed.
I have no doubt the new year will bring some new challenges, but I believe it will also bring  many new and really exciting opportunities for the sector. I have spoken a lot this year about being more open to different ways of doing things in public services.  In just a few months we have begun to see how voluntary, charitable and social enterprises like yours can deliver services efficiently, responsively, while transforming the lives of the people who use those services. Opening public services to more civil society groups will be a key priority for me over the coming year. 
 
Thank you once again for all your hard work and Happy Christmas.
Francis
Message from Nick Hurd
As Francis mentioned as we approach Christmas, I look back on a challenging but rewarding year.  It is a real honour for me, as Minister for Civil Society, to work on behalf of a sector that has made such a deep impression on me these past few years, with its tireless commitment to helping others, and its practical, human approach to social problems.  We have a mighty task ahead of us, but it is great to see things starting to take shape, with organisations already in place to launch the first wave of the National Citizen pilots, good progress towards building the Big Society Bank and the Transition Fund open for applications, which will help organisations adapt to new opportunities and challenges.
The new Compact with the additional measures I have put in place to increase transparency and accountability is an improvement. Coming down the pipe is more detail on how we will make it easier for VCS organisations to compete for public services, and a Green Paper on ideas to stimulate more giving. Lord Hodgson's taskforce will come to me in the New Year with specific ideas on cutting red tape.
I know this isn't an easy time for social enterprises and community groups and that many charities will approach the New Year with some concern.  The economic challenges facing the country are large and our commitment to tackling the deficit is as firm as it is necessary.  But the Coalition Government has a social purpose at its heart and it is understood, right at the top of government, that you are central to it.  Because whilst the message of the Big Society is new to many, you are there already, supporting people to take positive action, providing services that really work for the people who use them, and speaking up for those who would otherwise be voiceless.
I think 2011 can ultimately be a year of great opportunity for voluntary organisations and social enterprises and I will commit myself to clearing away every obstacle we can to your continued success.
A very happy Christmas to you.
Nick
Published 23 December 2010