Press release
Chris Grayling: Simple cautions for serious offences to be scrapped
Criminals who commit serious offences will no longer receive just a 'slap on the wrist' Secretary of State for Justice Chris Grayling announced today in a radical overhaul of 'simple' cautions.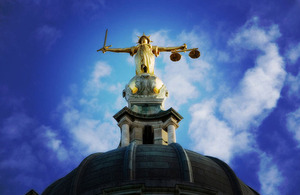 'Simple' cautions are an immediate way to deal with people who commit an offence and admit their guilt. They do not involve any form of punishment or rehabilitation and the criminal does not have to go to court.
He announced the Government will:
Ban 'simple' cautions for all of the indictable only offences - the most serious criminal offences which must be tried in the Crown Court including rape, manslaughter and robbery.
Ban 'simple' cautions for possession of any offensive weapon (including a knife), supplying Class A drugs and a range of sexual offences against children, including child prostitution and pornography.
Review the use of all out of court disposals for adults – including cannabis warnings, conditional cautions, penalty notices for disorder (PND), restorative solutions – by the police.
Chris Grayling said:
'Last year nearly 500 offenders who admitted committing some of the most serious crimes escaped with just a slap on the wrist. Quite simply this is unacceptable and unfair on victims. That is why I am scrapping simple cautions for all of the most serious offences and a range of other offences that devastate lives and tear apart communities.
'Alongside this, the Home Secretary and I are launching a review into the use of all out of court disposals – their use can be inconsistent, confusing and something the public, and victims, have little confidence in.
'We are on the side of people who work hard and want to get on; if you break the law you will not escape the law.'
Policing and Criminal Justice Minister Damian Green:
'It's time we get tough - that's why we are seriously clamping down on the use of simple cautions and reviewing all out of court disposals. We need to sort this out once and for all if the public and victims are going to have confidence in the criminal justice system.
'Simple cautions can be an appropriate way for the police to deal with low-level offending. However they are not suitable for criminals who commit serious offences like rape or robbery which can ruin victims' lives.'
The police guidance will be amended so that 'simple' cautions are no longer available for any indictable only offences and selection of other offences - possession of any offensive weapon, supplying or procuring Class A drugs, child prostitution and pornography, and possession or supply of indecent photographs of children.
In the most exceptional circumstances only a simple caution can be given but it must be signed off by a senior police officer - not below a Superintendent rank for indictable only offences. Under the current system a 'simple' caution can be signed off by a Sergeant rank (although the CPS must be consulted when giving a caution for an indictable only offence).
Alongside this he announced the Government will review the use of all out of court disposals for adults. At present there are a range of types used by the police to deal with crimes out of court – these include Penalty Notices for Disorder (PNDs), Cannabis Warnings and Conditional Cautions. The review will launch in the autumn and any changes to legislation will be brought forwards following the consultation. The review will be conducted in conjunction with the Home Office and the Attorney General's Office and will closely involve the police, Crown Prosecution Service, victim's organisations, the magistracy and the judiciary, as well as the wider legal community.
Notes to Editors
The most serious (indictable only) offences can only be tried at a Crown Court. The police must consult the CPS before issuing any out of court disposals for an indictable offence.
The other offences are either way offences and can be heard at a magistrates or Crown Court depending on the exact details of the offence. The police can issue an out of court disposal without consulting the CPS.
There were 167,758 cautions issued to adults in the 12 months to December 2012. This was 11 per cent fewer than the 187,490 given in the 12 months to December 2011 and 29 per cent fewer than the peak of 235,563 cautions issued in the 12 months to December 2007.
Simple caution data for 2012:

All indictable only offences – 493
Possession of knives - 962
Possession of weapons - 1,543
Child prostitution and pornography - 7
Cruelty to or neglect of children - 1,560
Taking, permitting to be taken or making, distributing or publishing indecent photographs or pseudo photographs of children - 183
Possession of indecent photograph of a child - 268
Possessing prohibited images of children - 14
Supplying or offering to supply a controlled drug (Class A) – 54
Total – 5084 - Further breakdowns of cautions

A present the following out of court disposals are available for adult offenders, these are:

Simple Caution - an out of court disposal given by the police to adult criminals when specified criteria are met. It is designed to be used for low-level offending. There were 168,260 cautions (including conditional cautions) issued to adults in 2012.
Conditional Caution - an out of court disposal for adults with set conditions attached to it with which the offender must comply. If an offender fails without reasonable excuse to comply with the conditions attached to a conditional caution he or she may be prosecuted for the offence for which the conditional caution was originally given. The rules around conditional cautions are set out in law in the Criminal Justice Act 2003. There were 4,600 conditional cautions issued in 2012.
Cannabis Warning - There were 70,114 cannabis warnings issued in 2012.
Fixed Penalty Notices - introduced in Britain in the 1950s to deal with minor parking offences. Originally used by police and traffic wardens, their use has extended to other public officials and authorities, as has the range of offences for which they can be used. Motoring offences are not included in MoJ data. The Home Office published data shows that there were 1.5 million FPNs for motoring offences issued in 2011.
Penalty Notices for Disorder - There were 106,205 PNDs issued in 2012.

For more information on the criminal justice system visit www.open.justice.gov.uk/
For further information please call the Ministry of Justice Press office on 02033 343536. Follow us on twitter @MoJPress.
Published 30 September 2013