Press release
China to adopt UK's green construction standards
Buildings in China could be built to British green construction standards boosting the UK supply chain by £200 million.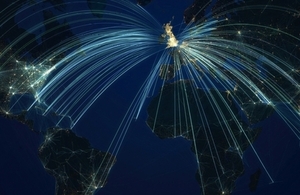 Boost for UK industry comes on first day of Vince Cable's trade mission.
Buildings in China could be built to British green construction standards boosting the UK supply chain by £200 million, Business Secretary Vince Cable announced today (26 May 2014).
The UK construction firm, Building Research Establishment (BRE), has signed an agreement with the Shenzhen Municipal Government to set up a training and R&D centre in China's fastest growing city.
The centre in Shenzhen will deliver training on a national scale to other cities and promote its services including certifying buildings to green construction standards.
BRE China aims to certify over 1,000 buildings across China to its standards which will generate £10 million income and could create up to £200 million of work for UK supply chain companies.
The green building market is in its infancy in China however the Chinese Government has established a goal of having green buildings account for 30% of new construction projects by 2020.
Around 10% of people in the UK work in construction-related jobs and the sector accounts for 6.7% of the UK economy. The global construction market is set to grow by 70% by 2025, providing British companies with excellent growth opportunities overseas.
Business Secretary Vince Cable said:
The UK has a strong competitive edge in building modern and environmentally friendly cities, through our world-class expertise in architecture, consultancy, design, IT and engineering.

The green construction market offers a wealth of opportunities for ambitious British firms and the companies in their supply chains wishing to export. I am in China to open doors for those companies and help to lay the groundwork for deals to be signed.
Director of BRE China Jaya Skandamoorthy, Director of BRE China said:
We are excited by the collaboration with the Shenzhen Government and supporting them to achieve their goal to be the greenest city in China.

We hope our international standards, research and training programme will provide a platform for leading companies, British and Chinese, to collaborate on green products, technologies and buildings.
The agreement marks the start of the Business Secretary's trade mission to China accompanied by over 30 British companies looking to win work on Chinese infrastructure projects. The small and medium sized firms, on the trade mission organised by UK Trade and Investment (UKTI), come from across the UK including Edinburgh, Cambridge, Oxford, Suffolk, Berkshire, Essex and Glasgow. Over the 7 days, Vince Cable will be visiting Guangzhou, Beijing, Qingdao and Chonging.
Further infrastructure announcements made today include:
Stramit has signed a £3 million contract with a joint venture start-up in China to supply them with building products made from waste straw. There is an annual crop of some 900 million tonnes of cereal straw in China of which 600 million tonnes is wasted or burnt. The product is very environmentally friendly and suitable for affordable housing
UK based Wei Yang & Partners has signed a £1.5 million contract to design a landmark complex for Chinese retailer Yonghui Group consisting of a flagship retail podium and a headquarters office tower with a total built area of 160,000 square metres
engineering consultancy company Hyder has been awarded a £187,500 landscape design contract for the Jingrui Hangzhou Shenua project. Hyder won the work through an introduction arranged by UKTI
Priestman Architects has signed a £430,000 contract with Chongqing Minghao Property Development Ltd to supply design services. The London based firm secured the work after taking part in a UKTI mission of RIBA (Royal Institute of British Architects) members to China
environmental products manufacturer Palintest has signed a £60,000 contract with CISDI and Yuanda Water for water quality monitoring equipment. The Gateshead company won the contract following a UKTI organised water sector mission to China
UK exports to China have doubled since 2008 and are at an all time high. However we still lag behind international rivals including Germany and France. On his trip to China Vince Cable will be championing UK companies in sectors crucial to the government's industrial strategy including construction, automotive, life sciences, creative industries and the knowledge economy.
Also today Vince Cable visited the Chinese ICT company Huawei and announced that they have signed a Memorandum of Understanding with BT to cover the potential supply of data-centre services by BT to Huawei.
Huawei Chairwoman of the Board Ms. Sun Yafang said:
I am very pleased to be able to host Vince Cable's visit to our headquarters campus and to show him first-hand the cutting-edge technology which is enabling Huawei to build a better connected world.

Huawei's commitment to invest and procure £1.3 billion in the UK by 2017 is on track and a significant portion of that will fund the expansion of our R&D facilities in the UK.
Notes to editors
The construction sector is an integral part of UKTI's Built Environment High Value Opportunity (HVO) Programme, aimed at identifying construction/environment/water projects in China and then assisting UK companies – large and small – to win business from those projects. The China GREAT Future Cities Campaign in 2013/14 focuses on supporting UKTI efforts on this Built Environment HVO.

UK Trade and Investment (UKTI) is the government department that helps UK-based companies succeed in the global economy. We also help overseas companies bring their high quality investment to the UK's economy – acknowledged as Europe's best place from which to succeed in global business. UKTI offers expertise and contacts through its extensive network of specialists in the UK, and in British embassies and other diplomatic offices around the world. We provide companies with the tools they require to be competitive on the world stage. For more information on UKTI, visit www.gov.uk/ukti.

The government's long-term plan is to build a strong, more competitive economy and a fairer society.
Industrial Strategy gives impetus to the plan for growth by providing businesses, investors and the public with clarity about the long-term direction in which the government wants the economy to travel.
The first achievements and future priorities of the industrial strategy have been published and can be found here https://www.gov.uk/government/publications/industrial-strategy-early-successes-and-future-priorities.
Published 26 May 2014