Chilean ministers tour the Olympic park
Minister for Latin America Jeremy Browne visited the Olympic park with President of Chile Sebastian Pinera and Minister for Foreign Affairs Alfredo Moreno on 19 October.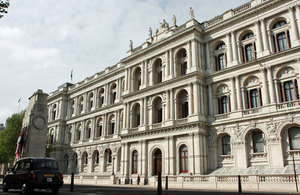 This was an opportunity to showcase British excellence and expertise in design, project and programme management, consultancy and construction.
The tour was part of a three day visit to the UK by the President of Chile. During the visit the Chilean President met Prime Minister David Cameron and the Queen. They were both handed rocks from the Chilean mine rescue. On Monday Foreign Secretary William Hague met Chilean Foreign Minister Alfredo Moreno.
The Olympic Games in 2012 will take place in London from 27 July to 12 August. The Paralympic Games will be held from 29 August to 9 September that same year. The Games offer a unique chance to invite people everywhere to take a fresh look at modern Britain. A Britain we think is open, connected, dynamic and creative.
Published 20 October 2010