Chile: "A long standing friend of the UK"
Minister for Latin America Jeremy Browne reflects about the importance of the UK-Chile bilateral relations after day one of his visit to Chile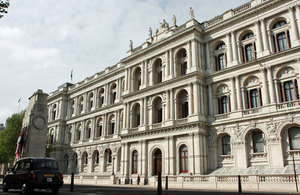 On the first day of his visit to Chile, the Minister's programme included meetings with Chilean government officials, the private sector and the Chilean Olympic Committee.
During the visit, Mr Browne called on the Minister Finance, Mr Felipe Larrain, who announced that the sixth version of the 'Chile Day' will take place in London again this year. He also attended a lunch with representatives of the private sector, including British companies with a presence in Chile, and launched the GREAT campaign in Chile. The campaign is designed to showcase the best of Britain to a wide audience in the year London hosts the Olympic Games highlighting the areas where the UK excels and where it is keen to work together with international partners to do even better.
Learn about the Minister's impression of his first day in Chile here:
Search the news archive
Published 13 March 2012