Press release
Children's relationship with separated parents to be emphasised by new law
The importance of children having relationships with each parent following family breakdown will be reinforced by a new law from next week.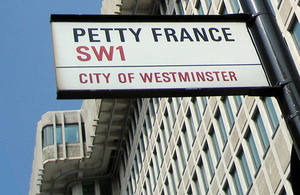 The change, which comes into force on Wednesday (22 October), will encourage parents to be more focused on children's needs following separation and the role they each play in the child's life. The new law will require family courts to presume that each parent's involvement in the child's life will further their welfare – where it is safe. However the needs of the child will always remain the paramount priority of the courts.
Justice Minister Simon Hughes said:
We have made bold reforms so that the welfare of children is at the heart of the family justice system, and there can be no doubt that parents play a very important role in every child's life. Following break up of relationships we are encouraging all parents to focus on the needs of the child rather than what they want for themselves.

No parent should be excluded from their child's life for no good reason. This change in the law is not about giving parents new 'rights' but makes clear to parents and everybody else that the family courts will presume that each parent will play a role in the future life of their child.
Parental involvement is the last part of the Children and Families Act 2014 to be implemented and marks the end of a significant phase of reforms to the Family Justice system.
Children and Families Minister, Edward Timpson:
Having spent almost 10 years as a family barrister, I know nothing is more important than taking the time to listen to children and making sure their voices are heard loud and clear.

This is a brand new system which puts the needs of children first, protects families from harmful and stressful battles in the courtroom and gives them greater support.
In 2011 the Family Justice Review landmark report found that the family justice system was 'no system at all' and that children's needs were not being met. Since then the government has made bold reforms so that the needs of children are firmly at the heart of the family justice system from now on.
The reforms include:
The introduction of the new Family Court in England and Wales with a simpler single system and a network of single application points making it much easier for the public.
The introduction of a 26 week time limit for care proceedings to reduce further the excessive delays in these cases and give greater certainty to the children involved.
New child arrangements orders which will encourage parents to focus on the child's needs rather than what they see as their own 'rights'.
Compulsory family mediation information meetings so separating couples must consider alternatives to the harmful and stressful court battles when resolving financial matters and arrangements for children.
The government continues to monitor closely the family justice system, and has recently announced a single mediation session for both parties if one of them is already legally aided.
Notes to editors
The Parental Involvement Provision in section 11 of the Children and Families Act 2014 will come into force on 22 October and will apply to cases started on or after that date. It won't apply to cases already going through the courts before 22 October. This Parental Involvement Provision is not about giving parents new 'rights' or the 50/50 division of children's time - it's about achieving a culture change by making clearer the court's approach to these issues.

The Children and Families Act 2014 took forward the coalition government's commitment to improve services for vulnerable children and support strong families. It reinforced wider reforms to ensure that all children and young people can succeed, no matter what their background.

Children and Families Bill: A look back' video. Watch 'Children and Families Bill: A look back' here.

The full Act is available on legislation.gov.uk.

You can find further information about mediation, including details of your nearest provider at www.familymediationcouncil.org.uk/.

The document – 'A brighter future for Family Justice' which sets out what has been achieved since the publication of the family justice review. is available at https://www.gov.uk/government/publications/family-justice-review-final-report.

Advice about what happens with children when you separate is available at www.gov.uk/looking-after-children-divorce/.
Published 19 October 2014