Children's Minister calls for reduced delays in adoption process
Tim Loughton asks local authorities to make better use of voluntary adoption agencies and reduce delays in adoption.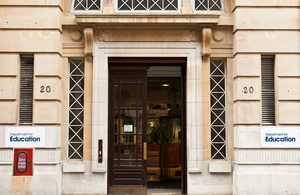 As part of a speech to mark National Adoption Week, Children's Minister Tim Loughton is today calling on local authorities and voluntary adoption agencies not to deny children a loving home with adoptive parents solely on the grounds that they do not share the same racial or cultural background.
Statistics show that the number of children placed for adoption fell by 15 per cent in 2009/10 and that more children are waiting longer to be adopted. Many local authorities should be making more use of voluntary adoption agencies, with experience in finding families for difficult-to-place children, to help reduce delay and break down barriers in the system.
Speaking ahead of an event to help launch the British Association for Adoption and Fostering (BAAF) Adoption Champions Scheme, Tim Loughton said:
I know that matching children for adoption is a complex and sensitive process, but in some cases there is too great an emphasis on finding the 'perfect match'. Ethnicity should not be a barrier to adoption if there are loving, stable and secure families ready and waiting to adopt children.

We know that a child tends to do better if adopted by a family that shares their ethnic and cultural heritage. Although the law and guidance is clear that due consideration needs to be given to language, religion, culture and ethnicity, this isn't translating into practice. It is much better that a child is adopted by loving parents than left waiting for their future to be decided.

A drop of 15 per cent in the number of children being placed for adoption this year is unacceptable. I hear about too many cases where prospective adopters are turned away because they don't meet the local profile, yet other local authorities have a shortage of suitable adopters. It can't be right that around 200 families, already approved by voluntary adoption agencies, are still waiting to adopt some of the most difficult-to-place children.

Local authorities should be making more, and better, use of voluntary adoption agencies and the families waiting to adopt children. I want local authorities to focus on what is in the best interests of the child and look beyond what services they alone can offer.
To help break down barriers and reduce delay in the system, the Government has set up an advisory group on adoption to provide expert advice on a range of practical proposals. This includes making better use of the Adoption Register and extending its proactive matching role.
Local authorities should also be making use of the Adoption Research Initiative, which provides guidance to frontline practitioners on planning and decision-making, family finding, adoption support and the costs of adoption.
In addition, the Government will shortly be reissuing updated statutory adoption guidance, including advice on matching for black and minority ethnic (BME) community and mixed ethnicity children. The BAAF is also developing new practice guidance on promoting a child's ethnic identity in adoption and balancing this against unnecessary delay.
DfE enquiries
Central newsdesk - for journalists 020 7783 8300
General enquiries - for members of the public 0370 000 2288
Published 2 November 2010