Children's homes: government publishes new data
Information on a new data pack published by the Department for Education on children's homes, to help local authorities.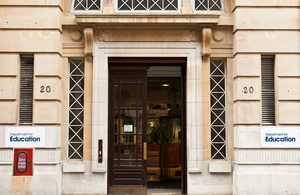 The government today published a new data pack on children's homes to help local authorities and residential care providers build a better picture of how children's homes are being used.
Fifteen per cent of looked after children will be placed in a children's homes at some point during their time in care. For many children, residential homes are an important part of their lives. All local authorities now have a legal duty to commission sufficient good quality accommodation for looked after children. Local authorities and children's homes providers need to work closely together to provide effective and stable placements for these children.
The data, published today, will give local authorities and residential home providers new information on children's homes including: the number of placements children have, how long they stay in residential homes, how different local authorities use children's homes and the characteristics of children who are living in residential care homes. The information should help local authorities think more carefully about the needs of the children in their areas.
The government has also published the 1st edition of a new newsletter for all those who are interested in improving children's homes' services. The newsletter will provide a forum for children's homes providers to exchange information and showcase good practice.
Children's Minister Tim Loughton said:
For many children, residential children's homes offer stability and security they may have been missing in their early lives. Excellent residential care has the potential to turn children's lives around. We want to make sure all children's homes are up to the standard of the best and make sure that local authorities are considering them as a viable placement option if appropriate for certain children.
That's why we have published, for the first time, all the data that we have on children's homes. We hope local areas and children's homes providers will use this data to think about how they commission services and place children. Over the coming months we will be working closely with the sector on a programme of work to target underperforming children's homes and make sure that children are receiving the best quality care.
The data pack is available.
DfE enquiries
Central newsdesk - for journalists 020 7783 8300
General enquiries - for members of the public 0370 000 2288
Published 18 July 2011