Children in care and children in need statistics
Children's Minister Tim Loughton responds to published figures regarding children in (local authority) LA care at the end of March 2010 and children subject to a child protection plan in 2009 to 2010.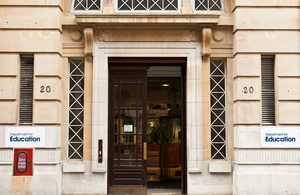 Responding to figures published today showing the number of children looked after by local authorities at the end of March 2010 and the number of referrals, assessments and children who were subject to a child protection plan by social services in 2009-2010, Children's Minister Tim Loughton said:
The increase in the number of children referred to and assessed by social services, and the significant rise in the number of children in care, confirms what we already know - that children's social services are working under increasing pressure. The care system is still experiencing the fall out from the Baby Peter case and pressures will remain challenging. But protecting vulnerable children is a top priority of this new Government, which is why we urgently launched Professor Munro's independent review of child protection and asked her to look at how we can free social workers from unnecessary bureaucracy and endless targets.
I recognise there are concerns about funding, but that's why it's more important than ever that we make the best use of our most valuable resource - social workers - and trust them to get on with their vital job at the sharp end. They need more support and greater professional freedom so that they are able to spend more time with children and make well-informed judgements. Professor Munro will also consider how we can improve the way that referrals and assessments are handled, and get a better understanding of what is driving the increase in referrals.
I have seen at first hand the challenging and demanding work that social workers do every day. We need to boost morale in the profession, which is why, in addition to the Munro review, the Social Work Reform Board is taking forward a long-term strategy to improve the support and supervision for new, existing and returning social workers, including faster on-the-job training. Whilst the situation won't change overnight I am confident that the right steps are being taken to address the recruitment and retention issues.
The statistics show that there hasn't been a significant increase in the number of children that need a child protection plan, despite the increase in referrals and assessments. Everyone knows that it is both much better for children, and more cost-effective for local authorities, if problems with vulnerable families are identified earlier so that children who do not require formal child protection get the help they need at an early stage. Some local authorities manage this very well and we want other areas of the country to learn from them. The Government has commissioned Graham Allen to do an independent review of early intervention and he is looking at how lessons from successful, cost-effective early intervention projects can be shared across the country. The Munro review will also look at the importance of other services intervening earlier to prevent problems escalating.
It is vital that the most vulnerable children in our society are protected and for many children, care will be the best option. But the care system must work better for them. We want to see local authorities working more effectively to place children - whether that's in foster care, residential care or adoption. These children deserve stability and security but there are still too many delays, particularly in placing children for adoption. Over the coming months, a new adoption advisory group will be considering some of these issues, and in March we will publish slimmed-down guidance to help LAs improve their care planning.
DfE enquiries
Central newsdesk - for journalists 020 7783 8300
General enquiries - for members of the public 0370 000 2288
Published 30 September 2010