News story
Child sexual exploitation: Progress driven by multi-agency hub
Norman Baker has visited the Oxford-based Kingfisher project, which brings together police, council and health services.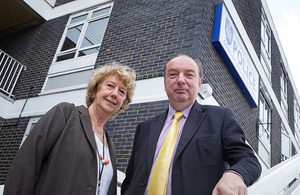 Vast improvements in child protection services in Oxfordshire can be mirrored elsewhere in the country by applying a similar approach, the Crime Prevention Minister said on a visit to the area.
Norman Baker toured the award-winning Kingfisher project, through which police, council and health services work together to combat child sexual exploitation (CSE).
The team, based at Cowley Police Station in Oxford, identifies and supports victims and children at risk of abuse and investigates suspected cases of CSE.
Horrific crimes
It was set up in late 2012 in the wake of Operation Bullfinch, which exposed horrific crimes committed by an organised child sex ring targeting vulnerable girls over several years.
An independent Serious Case Review is expected to report by the end of the year.
Earlier this year Ofsted praised the Kingfisher project for transforming child protection services in Oxfordshire in a report which rated the county council's social care "good".
Crime Prevention Minister Norman Baker said:
The Kingfisher project has made great strides in transforming the standard of child protection services in Oxfordshire.

As in Rotherham, where 1,400 children suffered appalling acts of sexual abuse over many years, people here remain deeply shocked by the terrible crimes inflicted on vulnerable victims and exposed by Operation Bullfinch.

The coalition government is absolutely committed to learning the lessons of what happened in Rotherham and here in Oxfordshire.

The Kingfisher project offers encouraging evidence that local agencies can and will make the necessary changes to ensure they meet their safeguarding responsibilities.

The methods of this project can help drive improvements elsewhere in the country at this important moment in the battle to eradicate child sexual exploitation.
The Minister met members of staff and toured the project's offices with Oxfordshire County Council's Deputy Director for Children's Social Care, Lucy Butler, who joined the authority in 2012.
Award winning
As well as the endorsement of Ofsted, the Kingfisher project has won two national awards this year.
Local government magazine Municipal Journal recognised the team which also received the Alarm Award celebrating excellence in public service risk management.
Lucy Butler, Oxfordshire County Council's Deputy Director for Children's Social Care, said:
We have had interest from local authorities and police forces all over the country in terms of the work of the Kingfisher team, as others seek to replicate what we have done in Oxfordshire.

We welcomed the visit from the Minister so that we were able to share with central government how Kingfisher works and what has been achieved.
Published 19 September 2014