Press release
Chief of Defence Staff meets Lebanese Army Commander
British Chief of Defence Staff held his first meeting with Lebanese Army Commander Gen. Kahwaji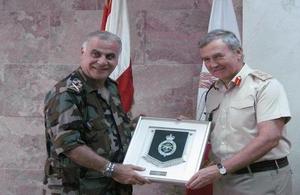 On his first foreign tour as Chief of Defence Staff, General Sir Nicholas Houghton visited Lebanon to meet Army Commander General Kahwaji on 27 August.
The two Generals discussed their shared intention to continue the current high level of engagement between their Armed Forces. Speaking during his visit, General Houghton said:
"I commend the Lebanese Armed Forces for their commitment to maintaining Lebanon's stability, under difficult conditions. On my watch, the UK will continue its staunch support to Lebanese stability. We are helping the LAF to keep the Lebanese people safe, maintain stability and protect Lebanon's borders, through a £10 million ($15 million) programme in support of the LAF's five-year Capabilities Development Plan, as my predecessor General Richards announced in July. In my new role as Chief of Defence Staff, I look forward to deepening the enduring defence partnership between our nations."
Notes for editors
Chief of Defence Staff is the UK's most senior serving officer in the Armed Forces. General Houghton took up his position on 18 July 2013, with the approval of Her Majesty the Queen.
UK support to the Lebanese Armed Forces is part of the UK-Lebanon five-point stability package announced in July 2013. This comprises over $120 million of support, helping to build the Army's capacity, to help Lebanon host over 708,000 refugees from Syria, and to support those working for political stability.
Biography
Sir Nicholas became Vice Chief of the Defence Staff in 2009 and deputised for the Chief of the Defence Staff on all defence matters.
Since his appointment to the MOD, Nicholas has held a number of senior posts including:
• 1999 to 2002: Director of Military Operations, MOD • 2002 to 2004: Chief of Staff of the Allied Rapid Reaction Corps • 2004 to 2005: Assistant Chief of the Defence Staff (Operations) • 2005 to 2006: Senior British Military Representative Iraq and Deputy Commanding General of the Multinational Force, Iraq • 2006: Chief of Joint Operations at PJHQ (UK)
Published 29 August 2013