News story
Chief Medical Officer revalidated as doctor
Chief Medical Officer Dame Sally Davies has become one of the first doctors in the UK to be revalidated.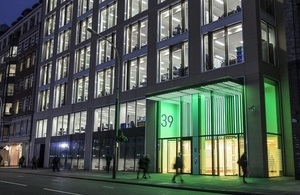 Chief Medical Officer Dame Sally Davies received confirmation from the General Medical Council (GMC) this week.
Medical revalidation, the process by which all doctors will demonstrate that they are up to date and fit to practise, started this month, with the most senior doctors being the first to undergo the process.
Doctors in the UK are the first in the world to have these regular assessments to ensure that their training and expertise are up-to-date.
Chief Medical Officer Dame Sally Davies said:
"I am delighted to have confirmation of my revalidation from the GMC.

"Being revalidated was an incredibly useful experience, and allowed me to reflect on my own practice and approach. All feedback is useful to doctors - and for many it is about improving their already high standards.

"This is the biggest change to medical regulation in over a hundred years, but must importantly the process provides huge reassurance to patients and the public."
Revalidation will help doctors keep up to the standard expected of them by ensuring they stay up-to-date with the latest techniques, technologies and research. It will also require a doctor to tackle any concerns about skills such as communication and maintaining trust with patients.
The process of revalidation will normally happen every 5 years and will apply to all doctors in all settings in the UK - including doctors working as locums and in the private sector. Doctors will undergo annual appraisals based on the requirements of the GMC's core guidance Good Medical Practice.
Published 21 December 2012