World news story
Chevening scholars ready to go to London!!
Farewell event for the 2016-2017 Chevening scholars that will be departing to London in September.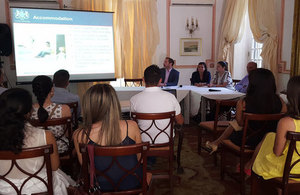 Lesley Saunderson, Attachee d' Affaires of the British Embassy in Havana hosted along with other Mission's representatives, a farewell for the Chevening scholars that will be departing to the UK this September. The event started with a presentation on Chevening by Second Secretary Political Anthony Henderson. Scholars Yanet Toirac and Maria Sosa who studied in the UK in previous years explained how Chevening scholarship changed their lives.
The presentation also included the showing of videos made by Cuban students currently completing their courses in the UK and who shared with their fellows tips, lessons learnt, funny anecdotes and their excitement for having been able to study in a British university. This was followed by a brief ceremony where the new scholars received their Chevening certificate and a photo session with a key message: I am Chevening!!
Published 19 September 2016