World news story
Chevening at 30
Rt Hon Hugo Swire MP, Foreign and Commonwealth Office, Minister of State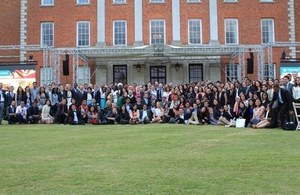 In today's world the UK is working with international partners more than ever before. Many of the challenges that we all face – such as climate change or protecting the human rights of those most vulnerable – can only be tackled if nations work together with a shared purpose. Globalisation also brings opportunities. A global economy and the emergence of countries such as China, India, Brazil and Mexico as economic powers mean even greater opportunity for businesses to trade with one another and expand into new markets, creating jobs and growth around the world.
So fostering a strong network made up of leaders from all walks of life, in more than 140 countries would – it seem – be a vital asset to any country.
Last week, I hosted an event to mark the 30th anniversary of the Chevening Scholarship Programme, which now boasts more than 43,000 alumni from around the world.
This programme offers the very best graduates the opportunity to come to the UK to study a post-graduate course at a British university. This enables future international leaders to form long lasting social, cultural, academic and commercial relationships in the UK, before they return home to their chosen career paths, with – I hope – fond memories of their time here.
As part of the festivities last Wednesday at Chevening House, the official residence of the Foreign Secretary, I had lunch with 30 of the top alumni. I was left in no doubt just how successful Chevening has been in identifying those destined to achieve great things as I sat next to the Prime Minister of Iceland and opposite the former Prime Minister of Romania, among many others, each influential in their chosen fields.
While it is important to recognise the success we have enjoyed to date, it is essential that we ensure it continues. That is why at Chevening House on Wednesday, I launched the Chevening Alumni Alliance, and the first online database for all Chevening Alumni, to ensure that this unique network remains strong for years to come. It is also the reason why earlier this year, the Chancellor announced that the number of scholarships will treble in ODA countries totalling 1500 for the 2015/16 Academic year. This is an exciting opportunity, not just to maintain the status quo, but to extend the reach of the programme.
On Wednesday, I was also able to thank the elite group of partner organisations who reap the benefit from investing in Chevening Scholarships, as a means of developing their future leaders and tapping into such an expansive and talented network. Applications for the 2015/16 academic year will open in August and I would encourage all gifted and talented graduates across the world – who might be reading this – to apply. As future leaders, you would be most welcome to study in the UK and to join our growing Chevening club, to work with us on the ever more global challenges and opportunities that we face.
Published 16 July 2014