World news story
Chevening applications opened 8 August 2016
The Chevening Secretariat is accepting applications for 2017/2018 Chevening Scholarships from 8 August until 8 November 2016.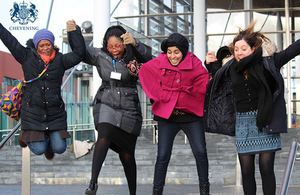 Chevening Scholarships are awarded to individuals with demonstrable leadership potential who also have strong academic backgrounds. The scholarship offers financial support to study for a master's degree at any UK university and the opportunity to become part of an influential global network of 46,000 alumni.
Candidates for the UK Government's prestigious Chevening Scholarships can register and complete the application form via www.chevening.org/apply.
The call for new applicants follows the selection of more than 30 scholars from Argentina, who won an award to study at a UK university this year.
There are more than 1,500 Chevening Scholarships on offer globally for the 2017/2018 academic cycle. These scholarships represent a significant investment from the UK Government to develop the next cohort of global leaders.
Applicants from Argentina can choose any course of study, but we particularly welcome applications in the following fields:
Public policy
Political governance (transparency, political parties, institutions)
Justice
Political and public opinion analysis
Transport
Energy
Urban development
Education and science (including climate change)
International relations
Economy
Finance
Regulation of financial markets
Economic governance and economic policy
Energy (including renewable energy)
Trade and industry
Information and communication technology (ICT, including digital commerce)
Professional services (finance and legal)
Oil & gas
Mining
Agritech
Healthcare and pharmaceuticals infrastructure
Educational services and international retail
Communications and media
Mainstream media (TV, radio, online, print and digital) with focus on the following areas: politics, economy, business and finance, and international
Public affairs and corporate communications
More information
Published 12 August 2016