World news story
Chevening Alumni Conference in Zagreb
Chevening Alumni from Slovenia, Croatia, Hungary and Poland discussed the role of Chevening networks in a post-Brexit Europe in Zagreb.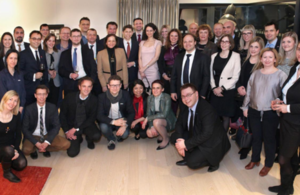 The Chevening Alumni from Slovenia, Croatia, Hungary, Poland gathered in Zagreb from 17 to 19 February 2017 for a weekend of networking and discussions. The theme of this year's gathering was "The role of Chevening Alumni Network in post-Brexit Europe" and was jointly organised by the Slovenian, Hungarian and Croatian Chevening Alumni.
The conference welcomed over 40 members from all four countries and was opened by British Ambassador to Croatia Andrew Dalgleish, Sophie Honey, British Ambassador to Slovenia, and Iain Lindsay, British Ambassador to Hungary via a video message.
Participants discussed how Chevening Alumni can help strengthening bilateral relationships in a post-Brexit Europe; they explored the possibilities of future regional cooperation and found out more about the Chevening Europe conference which will take place in Wilton Park in 2018. One of the final conclusions made was that a strong international network is necessary to support the local Chevening Alumni, particularly in a post-Brexit Europe.
The next Chevening conference, which is a part of the Chevening Alumni Programme Fund project "Chevenings coming under the European spotlight", will take place on 25 and 26 March in Čatež, Slovenia. A networking reception for UK Alumni will be held on 24 March 2017 in Ljubljana.
Published 28 February 2017