Press release
Charity Commission - changes to the board
Nick Hurd has today announced the re-appointment of John Wood as a legally qualified board member of the Charity Commission for England and Wales.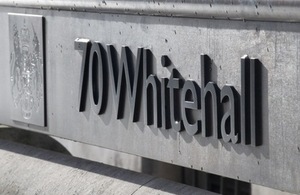 Nick Hurd, Minister for Civil Society, has today announced the re-appointment of John Wood for a second term of three years as a legally qualified board member of the Charity Commission for England and Wales.  He has also announced that he has accepted the resignation of Irene Khan as a board member of the Charity Commission, with immediate effect.
Nick Hurd, Minister for Civil Society said:
I am pleased to announce John Wood's re-appointment to the Charity Commission's board. Charities have a critical role to play in the Big Society and the Charity Commission, as the independent regulator has the important job of supervising the sector and preserving public confidence in charities.  

I have accepted Irene Khan's resignation. I am grateful for Irene's contribution to the Commission over the last year.
Dame Suzi Leather, Chair of the Charity Commission said:
John has already made an extremely valuable contribution to the Commission board and I am very pleased that he will be continuing as a board member. Our board plays a critical role in overseeing the strategic direction of the Commission and the years of experience and legal expertise that John brings make an important contribution to this.

Irene's breadth of experience, and particularly her deep understanding of the issues affecting international charities and NGOs, has been of great value to the Charity Commission during her time on the Board.  She has however recently found it increasingly difficult to combine her responsibilities as a Board member with her international commitments, and so has tendered her resignation. We wish her the very best for the future.
Irene Khan said,
It has been an honour and a privilege to serve on the board of the Charity Commission. I have greatly enjoyed the work but regrettably have decided to resign as my assignment overseas means that I am no longer resident in the UK and cannot give the Commission the time and priority it deserves.
John Wood will continue to sit alongside Simon Jones, John Knight, Sharmila Nebhrajani, Theo Sowa, and Simon Wethered, as Commission Board Members.
The Charity Commission for England and Wales is established by law as the independent regulator and registrar of charities in England and Wales. It aims to provide the best possible regulation of charities in order to increase charities' efficiency and effectiveness and promote public trust and confidence in them.
John Wood's re-appointment has been made in accordance with the Office of the Commissioner for Public Appointments (OCPA) Code of Practice, and he is remunerated at £350 per day for a minimum of two days work per month.
Notes for Editors
John Wood is one of the two Commission Board members who have a seven year general qualification within the meaning of section 71 of the Courts and Legal Services Act 1990 as required by Schedule 1A of the Charities Act 2006.  Simon Wethered is the other legally qualified board member.
Under OCPA rules all re-appointments are made on merit and political activity plays no part in the selection process. However, in accordance with the original Nolan recommendations, there is a requirement for appointee's political activity to be made public. John Wood has declared no political activity.
John Wood does not hold any other ministerial public appointments.
Irene Khan was appointed as a Commission Board member in January 2010.
Published 14 March 2011