World news story
Changing how we deliver consular services in Hong Kong
Public consular counters in Hong Kong will close one full day a week (Wednesday from 4 November) to enable the consular team to support most vulnerable customers and engage in outreach, while maintaining existing service levels.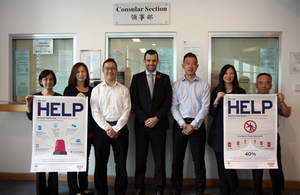 The British Consulate-General in Hong Kong's consular team is among the busiest in the Foreign and Commonwealth Office's (FCO) overseas network. It provides assistance to one of the largest communities of British Citizens in Asia in Hong Kong, to a growing British community in Macao and to over half a million British tourists who pass through Hong Kong every year. It also offers support to 3.4 million British National (Overseas) passport holders, from Emergency Travel Documents, to notarial services, to helping other UK missions to ensure the welfare of over 60 BN(O) prisoners overseas.
Consular services remain one of the FCO's top three global priorities. This makes it all the more important to carefully consider how to prioritise consular time and resources in Hong Kong.
From 4 November, the consular counters will no longer operate on Wednesdays. British Consul Patrick Turner explained:
Closing the counters for one day each week on Wednesday will help us improve how we deliver consular services to British nationals in Hong Kong. It will allow us to ensure we put the most vulnerable first. It will give us more time to consolidate and build on the partnerships we have with local authorities, other consulates and non-governmental organisations – all of whom are critical to the work we do. It will ensure we can regularly support the community, for example having a regular time to visit our nationals in hospital or in prison.

I also want to reassure the community: this change does not mean a reduction in the services we offer. The appointments-based booking system for Emergency Travel Documents and notarial work supports our current level of customer demand over four working days per week. Members of the public will still be able to access advice from our team on our 24-hour phone number: +852 2901 3000. If someone requires urgent consular assistance, we will ensure that they are attended to.
If you have any questions or concerns about this change, please do not hesitate to contact the consular team on HongKong.Consular@fco.gov.uk.
If you want to know more about the consular services we provide in Hong Kong, please refer to this article.
Further information
Opening hours of consular section
Published 29 October 2015