World news story
Changes to the UK Visa application service in Lisbon
Teleperformance Ltd to take over the running of our Visa Application Centre in Lisbon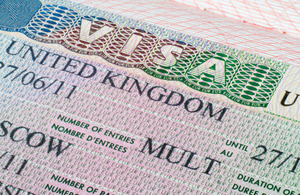 From 14th March 2014 our new commercial partner Teleperformance Ltd will take over the running of our Visa Application Centre in Lisbon. From that date, the Visa Application Centre will move to:
Regus Avenida da Liberdade
Avenida da Liberdade, 110,
1269-046 Lisbon

In addition we are making some changes to the visa service that we offer.
Change of opening hours. The Visa Application Centre will open every Friday during our busiest months of February, June, July and November and fortnightly at other times. Opening hours will be 9am to 1pm.

Charges. The fee charged for the use the Visa Application Centre in Lisbon will be reduced to £59. This fee (charged in Euros) will be in addition to the visa fee, and will cover the costs of the Lisbon Visa Application Centre.

There will be an option of applying at the new Visa Application Centre in Madrid, open Monday to Friday at Avenida De Asturias 9, Plaza Castilla, where no additional fee will be payable.

A Priority Visa Service will also be available with an additional charge of £100. This will also be paid in Euros online after booking your appointment. The service allows you to have your visa application placed at the front of the queue by UK Visas & Immigration, which would normally enable a decision within 3-5 working days.
Further details on all of the services, including eligibility criteria, will be available on the website when you book your appointment.
We will work closely with our commercial partners to ensure continuity of service during the transition period. If you need to make an urgent application and there are no appointments available please contact one of the following (services are available in English and Portuguese):
800-863-333. You will be charged the equivalent of US$3 per minute in your local currency to make this call. Call charges on this number are billed to your credit card; charges are assessed in increments of 6 seconds, only when you are connected to an agent. You can only pay for the service (using a secure, automated system) with a credit or debit card with the Visa or MasterCard logo.
Published 6 March 2014