News story
Changes to Police and Crime Commissioners complaints system
Proposals to change the way non-serious complaints against Police and Crime Commissioners are managed.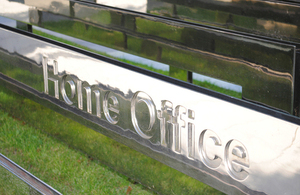 Proposals to change the way complaints against Police and Crime Commissioners are managed were published by the Home Office today (Thursday 17 December).
Views have been invited on potential changes to the system for non-serious complaints (i.e. non-criminal), which are handled by Police and Crime Panels (PCPs) through the "informal resolution" process.
But with PCCs taking on a greater role in the handling of complaints made against their police force and their responsibilities increasing, this Government believes the time is right to amend the system for complaints made against a PCC.
The proposed changes include:
Clarifying, through non-statutory guidance, what constitutes a complaint, ensuring PCPs take forward complaints about a PCC's conduct rather than their policy decisions.
Providing PCPs with greater investigatory powers to seek evidence about allegations made in a complaint.
Clarifying, through non-statutory guidance, the parameters of "informal resolution" and setting out that, where agreement cannot be reached, it is open to PCPs to make recommendations on the expected level of behaviour of a PCC, and that they have powers to require the PCC to respond.
Minister for Policing, Crime, Criminal Justice and Victims, Mike Penning, said:
With PCCs' responsibilities increasing, we need to ensure that the system governing complaints about their conduct is effective and easy for the public to navigate.

These proposals will improve the transparency of the complaints procedure, delivering more satisfactory outcomes for complainants while ensuring the fundamental principle of accountability of PCCs to the electorate is not undermined.
Serious complaints - i.e. those which could relate to criminality - will continue to be handled by the Independent Police Complaints Commission. This process will remain unchanged.
The consultation closes on 10 March 2016 and the full consultation document can be found here
Published 17 December 2015