Press release
Changes to healthcare services in northwest England to benefit patients
The Health Secretary today announced changes to Trafford General Hospital and vascular services in Cumbria and Lancashire should proceed.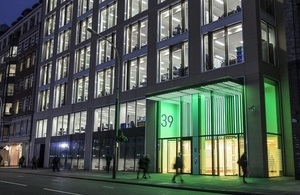 Following advice from the Independent Reconfiguration Panel (IRP), Health Secretary Jeremy Hunt today announced that changes to Trafford General Hospital and vascular services in Cumbria and Lancashire should proceed, leading to better and safer care for local patients.
Changes to improve care for patients at Trafford supported by the Health Secretary today mean that:
There will be an increased range of outpatient appointments and day case surgery, and other vital local services, available at Trafford General Hospital

A dedicated centre for planned orthopaedic surgery will be developed on the site

The A&E department will become a consultant-led urgent care service open seven days a week from 8am to midnight

Intensive care treatment and emergency surgery will no longer be provided on the site
Whilst Trafford General Hospital is currently able to provide a range of high quality clinical services, it is becoming increasingly difficult to provide these services in a way that is secure and safe for patients in the long term.
Due to concerns raised about safety in the long term, the local NHS in Trafford and Greater Manchester proposed changes to the hospital so that services continue to be safe and local people can access the high quality healthcare they deserve.
Trafford General Hospital has one of the smallest type one A&E departments in the country and treats a relatively small number of patients for unplanned emergency or acute care. Figures from 2010/11 show that at its busiest, the A&E department saw on average seven patients an hour and overnight this fell to only two patients an hour.
Many patients with life threatening illnesses or injuries are not taken to Trafford General Hospital. In fact over half of local residents already use other A&E services nearby, in one of the three large university hospitals within a 10 mile radius of Trafford.
There are also concerns over intensive care and emergency surgical services. According to the Greater Manchester Critical Care Network the intensive care unit needs to treat 200 patients per year in order to continue to provide safe care and maintain the skills of staff, but currently treats less than 100.
Guidance from the Royal College of Surgeons Guidance in 2006 also states that emergency surgery should serve a population of ideally 450,000 to 500,000. However, Trafford General only serves a population of 100,000.
As a result of the changes supported by the Health Secretary, NHS Trafford CCG will also invest up to £3.5 million in order to deliver more care closer to home, including community matrons, a community geriatrician and a team to support people with complex needs and mental health issues.
The Health Secretary has asked NHS England to oversee a rigorous assurance process around the changes. Changes will only take place once assurances have been given that the three neighbouring A&E departments can continue to provide the same level of service and consistently meet A&E standards with any extra patients they may see as a result. It is estimated that the number of extra patients should only amount in total to 25 patients per day, shared across all sites.
Plans will also need to be put in place to address transport issues for local residents, accelerate the implementation of a local integrated care system and maintain access to out-of-hours mental health services.
Changes to concentrate vascular services in three specialist centres and improve results for patients across Cumbria and Lancashire have also been supported today. This change is in line with recommendations by the Vascular Surgery Society of Britain and Ireland and is also supported by the IRP.
The changes will mean:
Vascular services will be concentrated at North Cumbria University Hospital NHS Trust in Carlisle, East Lancashire Hospitals NHS Foundation Trust in Blackburn, and Lancashire Teaching Hospitals NHS Foundation Trust in Preston

Daycase work and outpatients will continue to be assessed and treated in local hospitals across the region
A similar programme across Greater Manchester to make changes to stroke services, resulting in three specialist centres for acute stroke treatment, was implemented in 2010 and is estimated to have saved 249 lives.
The Health Secretary has asked NHS England to work with the local NHS in Cumbria and Lancashire to address outstanding concerns about the changes and ensure plans are in place to help those who have further to travel.
Health Secretary Jeremy Hunt said:
Making sure patients have the best, safest and most compassionate healthcare possible is my utmost priority. Changes to local health services are often controversial and require difficult decisions to be made. Where there is clear evidence that changes will benefit patients, such as the cases set out today, I will not shy away from taking those tough decisions.

The changes to Trafford General Hospital and to vascular services in Cumbria and Lancashire are supported by a very strong clinical case and have been driven locally by doctors and other healthcare professionals, who know their patients better than any politician. I have followed their advice and support and believe these changes are necessary to make sure patients receive safe high quality care.
Speaking about the changes at Trafford, Bob Pearson, Medical Director of Central Manchester University Hospitals NHS Foundation Trust, said:
This announcement is good news for the people of Trafford as it means that they will get the right treatment in the right place at the right time and that we can maintain high standards of care at the hospital.

Many existing services at Trafford General will continue, including day surgery, out-patient clinics and diagnostic services, and some will expand. We will also be developing a specialist Orthopaedic Centre which will be one of the largest in the region and will provide the very highest standard of care for people having operations such as joint replacements. Emergency care will still be provided on site by specialist doctors and nurses from 8am – midnight, seven days a week.
Dr Nigel Guest, chief clinical officer at NHS Trafford CCG and a local GP, said:
Making changes to services at Trafford General will ensure that local residents can continue to receive safe and high quality care and is vital to secure a long and vibrant future for the hospital.

As part of these changes the clinical commissioning group will develop more integrated care services to benefit all patients across the borough. We will also invest further in community and primary care service, and make sure they are much more joined up and coordinated with all local hospital care.
Background information
For more information please contact the Department of Health press office on 0207 210 5004

More detail about the proposals for Trafford General Hospital can be found here.
Published 11 July 2013