Press release
Changes to European rules on motorcycle type approval
Consultation on new European regulation on motorcycles, 3 wheeled vehicles and quadricycles launched.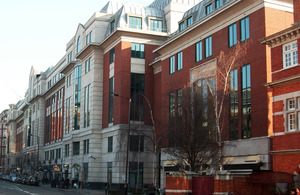 A consultation on a proposed new European regulation on the type approval process for motorcycles, 3 wheeled vehicles and quadricycles was published today (5 September, 2011) by Roads Minister, Mike Penning.
Type approval is used to certify that a vehicle meets minimum european standards on safety and exhaust emissions. Vehicles which are type approved can be sold and registered throughout Europe without further approval restrictions being imposed by member states.
The proposed new regulation would replace existing legislation setting out the requirements manufacturers must meet when presenting new motorcycles, 3 wheeled vehicles and quadricycles for type approval. The proposed changes include bringing all type approval requirements for these vehicles under one regulation rather than several, as is currently the case, as well as introducing new requirements on vehicle safety and environmental impact.
Roads Minister, Mike Penning, said:
This is a chance for both motorcycle manufacturers and riders to have their say on this new EU Regulation.

I hope as many people as possible will respond to the consultation and give us the benefit of their knowledge and experience as we progress towards the negotiating stage on these new rules.
Comments received to the consultation will be used to help refine the UK's negotiating position. The consultation is open until 28 October 2011.
Press enquiries: 020 7944 3066
Out of hours: 020 7944 4292
Public enquiries: 0300 330 3000
Published 5 September 2011