World news story
Changes to British Passport Services in Australia
From 13 January 2014 the process for applying for a British passport from Australia changed.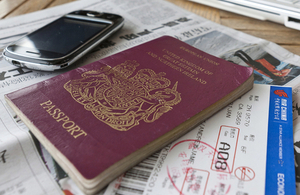 British nationals in Australia wanting to apply for a new passport are advised of an important change in the way they will need to make applications. From 13 January, they must send applications direct to Her Majesty's Passport Office in the UK, instead of the Regional Passport Processing Centre in Wellington, New Zealand.
All the information needed to complete the new passport application process is available on the GOV.UK website. Applicants will complete the passport application form and payment online. They will then print and sign a declaration sheet and send this together with photographs and supporting documentation to Liverpool Application Processing Centre in the UK.
British High Commissioner, Paul Madden, says:
The main difference is that most of the application process is now completed online. Previously you had to go to Australia Post in person. In future, for the final stage of sending off the documentation, you can use Australia Post or any other courier.

Standard passport processing times will remain the same. If you are renewing your passport, allow at least four weeks from the date the fee is taken and all the correct documentation has been received in the UK. Don't leave it until the last minute; if you apply up to nine months in advance, unexpired validity will be added to your new passport. Most countries need at least six months remaining validity to allow you entry.
First time applicants, or those replacing a lost or stolen passport, should allow at least six weeks. These applications may take longer if HM Passport Office needs to request further information. Applicants are advised not to book travel until after receiving their new passport. The British Government can't accept responsibility for costs incurred if travel is booked and later changed/cancelled because the passport has not been received.
Applicants should ensure their passport photographs meet the UK standards; failure to do so will result in the applicant being asked to send new photographs, thus delaying the application.
We recommend that applications are sent by secure means such as registered post or a courier. Australia Post continues to offer a trackable courier service to submit applications to the UK, but applicants are free to use other companies according to their choice. The new passport and supporting documents will be returned to applicants separately by DHL to the address they provided in the application. Applicants will now be able to track their application's progress online in real time. Applicants will no longer pay for a premium rate phone call; instead they will only pay for the cost of a call to the UK.
Applicants who lack internet access or want advice should call the Passport Advice Line on 0011 44 300 222 0000. The service operates from 8am to 8pm, UK time. Alternatively, applicants with email access can contact: overseasNewportCCC@hmpo.gsi.gov.uk.
Applicants who submitted an application before 13 January under the old system will still have their application processed.
British nationals who need to travel urgently but whose normal passport is unavailable, damaged, expired or has insufficient validity should contact their nearest British Consulate in Australia. In certain circumstances our staff may be able to issue an Emergency Travel Document (ETD), but this is valid only for a single specified journey, so is not a substitute for a full UK passport. Some countries do not accept ETDs, so we may not be able to issue one for the planned journey. So we strongly recommend applicants apply for a full passport as early as possible, and ensure they follow the new guidelines.
Ends
Note to Editors
Fees charged for overseas passport applications are based on the cost of providing the service. Because the number of overseas applications is smaller and efficiency gains are harder to achieve, the issuing of all British passports is being repatriated. Once this has been completed worldwide in 2014, Her Majesty's Passport Office will seek to more closely align overseas and UK passport fees.
Published 14 January 2014