News story
Changes made to police custody rules
17-year-olds to receive access to appropriate adults in police custody following changes announced by Home Office.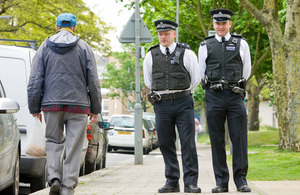 Changes to the way 17-year-olds are treated in police custody have been announced by Policing Minister Damian Green.
The Home Office announced on Monday (21 October) that it will introduce a requirement on police forces to provide 17-year-olds with access to an appropriate adult whilst they are being held.
Police will also have to inform the suspect's parent or guardian of their arrest, in the same way they do in cases involving 10 to 16-year-olds.
Guidance
The government had already issued interim guidance to forces advising them to start implementing the changes.
The revised Police and Criminal Evidence Act code of practice will come into force on 27 October.
A Home Office spokesperson said:
The welfare and protection of all those held in police custody, especially young people, is extremely important.

That is why 17-year-olds who are detained in custody will now be provided with an appropriate adult and their parent or guardian will be told of their arrest, as is already the case for 10 to 16-year-olds.
Published 21 October 2013