World news story
Changes in Notarial and documentary services on 1st April in Spain
Marriage documentation services for British nationals who wish to marry in Spain will be centralised at the British Consulate General in Madrid and sent out by post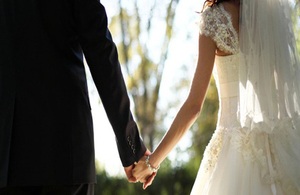 With effect from 1st April 2015, Certificates of No Impediment and Certificates of Marital Status for Marriage/Pareja de Hecho will be issued centrally by the British Consulate General in Madrid. These services will be provided by post, so customers will not need to attend an appointment in person.
If you require either of these certificates, you will be able to print out the relevant documents from the website, sign them in front of a Spanish Public Notary near you, and then send your application to Madrid, regardless of where you are in Spain. You will then receive your original documents and certificate in the post. Full details of how to apply will be made available on 1st April.
British Consulates in other areas of Spain will continue to issue the Certificate of Foreign Marriage Recognition locally, and customers requiring this document will have to attend an appointment in person at their nearest consulate, as they do now.
These changes are intended to streamline our consular operation, make the marriage/Pareja de Hecho paperwork process for British nationals in Spain cheaper and more convenient, and help free up our resources so we can focus on providing assistance to customers who need our help the most.
Published 23 March 2015