Press release
Change4Life and Disney launch summer 10 Minute Shake Up campaign
Campaign aims to get kids across the country moving for an extra 100 million minutes this summer.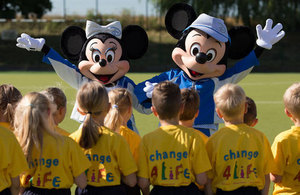 Public Health England (PHE) today (15 July 2014) launches a major new Change4Life campaign in partnership with Disney to get kids more active this summer holidays. The 10 Minute Shake Up campaign uses popular Disney characters alongside recognisable Change4Life animations to get children doing more 10 minute bursts of exercise, to help them reach the recommended 60 minutes or more of physical activity they need each day. Families have been able to pre-register for the 10 Minute Shake Up campaign since June and already 75,000 families have signed up.
The launch of the campaign comes at a time when parents are starting to plan how they will keep their children entertained during the school holidays. Survey results released today reveal that almost half of parents surveyed (48%) with children aged 5 to 11 say the most frequent complaint from their children during the summer holidays is 'I'm bored'. Whilst many parents want to use the summer holidays to try and encourage their children to get more physically active (52%), nearly the same amount (47%) are concerned about the cost.
Children need a minimum of 60 minutes of moderate to vigorous exercise each day, which can be achieved in 1 session or through shorter bursts of 10 minute activity. Only 1 in 5 children aged 5 to 10 currently meets the recommended target of 60 minutes of daily activity, with almost 40% of children in this age group doing less than 30 minutes per day. This breaks down to 20% of girls and 25% of boys aged 5 to 10 currently meeting the target daily amount.
The 10 Minute Shake Up campaign brings families loads of fun, free Disney inspired activities and games to get children doing more 10 minute bursts of activity every day. To join in, parents should search Change4life and sign up for the free 10 Minute Shake Up Pack, which includes a stopwatch (to time activity), Disney inspired activity cards (with fun ideas for games and activities) and a wall chart and stickers (to track progress during the summer). There are also loads of games and activities online at the Change4life 10 Minute Shake Up Zone to keep children active all holiday.
Parliamentary Under Secretary of State (Public Health), Jane Ellison said:
The government is committed to encouraging active and healthy lifestyles and we are seeing some encouraging signs of childhood obesity levels stabilising. By 2020, we want to see a sustained downward trend in the level of excess weight in children, by encouraging people to eat healthily and be more active. Change4life and this 10 Minute Shake Up campaign helps towards that ambition by providing parents with fun, easy ideas on how to get their children more active over their summer holidays.
Dr Ann Hoskins, Director for Children, Young People and Families, PHE, said:
As a mother, I know how difficult it can be to find ways to keep the family active and entertained during the summer holidays. That's why Change4Life and Disney have teamed up to bring families fun, free games and activities that children can do in just 10 minutes. Encouraging children to do a few extra 10 minute bursts of activity every day can make a real difference to children's health.
Marianthi O'Dwyer, VP, Head of Living Well at The Walt Disney Company said:
This campaign uses children's favourite characters including Mickey Mouse, Sulley and Olaf and their recognisable signature 'moves' and stories as inspiration to get active.

Disney's vision is to inspire families to flourish, by encouraging life-long healthy behaviours, through story-telling, imagination, fun and play. This campaign with Change4Life is just the start of our commitment to this vision.
The 10 Minute Shake Up campaign will run for 6 weeks from today and will see adverts running on TV including Disney channels and in Disney Stores, cinemas, magazines and online. Disney will also be supporting the campaign with specific 10 Minute Shake Up programming on its channels, from dance-along tutorials to cool football and basketball skills and contemporary tricks that kids can learn, as well as activity in Disney Stores. Events will also take place across the country, offering families tips, ideas and demonstrations on how easy and fun 10 minute bursts of activity can be.
The TV adverts are made by long-term collaborator Aardman Animations and use some of Disney's most popular characters from film and TV.
Ends
Notes to editors
The 60 minutes needed by school-aged children can be achieved by 1 daily session or through shorter bursts of 10 minute activity. 10 minutes performed several times a day is sufficient to improve fitness and health overall.
In school-aged children, physical activity can lead to better academic achievement, increased attention span, improved behaviour and self-confidence as well as increased physical health and a reduced risk of developing chronic conditions in the future.
Moderate intensity physical exercise will cause children to get warmer, breathe harder and their hearts to beat faster. Examples include bike riding and playground activities. Vigorous intensity activities include fast running and sports such as swimming or football.
PHE is committed to working with national and local partners to promote increased physical activity and will publish a national implementation framework for physical activity in October 2014 to support the government call to action on physical activity, Moving More, Living More.
PHE exists to protect and improve the nation's health and wellbeing, and reduce health inequalities. It does this through advocacy, partnerships, world-class science, knowledge and intelligence, and the delivery of specialist public health services. PHE is an operationally autonomous executive agency of the Department of Health.
Change4Life was set up to tackle childhood obesity 5 years ago. With 1.9 million families signed up, Change4Life has a proven track record of mobilising the country to eat well and move more.
www.gov.uk/phe www.nhs.uk/change4life and follow us on Twitter @PHE_uk @change4life
Disney has listened to thousands of parents from across the country with a view to understanding the healthy lifestyle goals they have for their family and how Disney could help. Chairman and Chief Executive of the Walt Disney Company, Bob Iger has pledged the company's commitment to using the unique relationship that children have to Disney characters in a positive way to help families lead healthier lives.
Public Health England Press Office
Wellington House
133-155 Waterloo Road
London
SE1 8UG
Published 15 July 2014