Change of British High Commissioner to Sri-Lanka
Mr John Rankin has been appointed British High Commissioner to the Democratic Socialist Republic of Sri Lanka and Non-Resident British High Commissioner to the Republic of Maldives.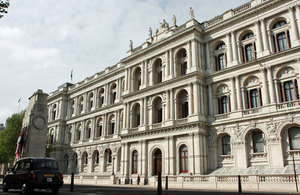 He will succeed Dr Peter Hayes who will be transferring to another Diplomatic Service appointment. Mr Rankin will take up his appointment during February 2011.
John Rankin has been Director, Americas in the FCO since 2008, responsible for a network of over 30 British Embassies, High Commissions and other posts in North, Central and South America and the Caribbean. He joined the FCO in 1988 as an Assistant Legal Adviser and served as legal adviser to the UK Mission to the UN and to the UK Mission to the Conference on Disarmament in Geneva. He has also served as Deputy Head of Mission at the British Embassy in Dublin, working on the Northern Ireland peace process, and was Her Majesty's Consul General in Boston between 2003 and 2007.
John has a degree in Scots Law from the University of Glasgow and a Masters Degree in International Law from McGill University, Montreal. Prior to joining the FCO he qualified and practised as a solicitor in Scotland and was a lecturer in public law at the University of Aberdeen. He is married to Lesley and has three children.
On his appointment as British High Commissioner to Sri Lanka and Non-Resident British High Commissioner to the Maldives, Mr Rankin has said:
"I am delighted and honoured to be appointed as High Commissioner to Sri Lanka. The United Kingdom and Sri Lanka have close and long-standing links, and I look forward to furthering the partnership between our countries. I similarly look forward to developing even stronger relations with the Maldives as we pursue together our common interests."
Curriculum vitae
Full name: John James Rankin
Married to: Lesley Marshall Rankin
Children: Three
2008- present FCO, Director, Americas
2007-2008 FCO, Assistant Director, Human Resources (Operations)
2003-2007 Boston, Her Majesty's Consul General
1999-2003 Dublin, Counsellor and Deputy Head of Mission
1998-1999 Dublin, First Secretary (Political)
1996-1998 FCO, Deputy Head, OSCE and Council of Europe Department
1994-1996 FCO, Senior Assistant Legal Adviser and later Legal Counsellor
1988-1991 FCO, Assistant Legal Adviser and later Senior Assistant Legal Adviser
1988 Joined FCO
Published 1 September 2010