News story
Chancellor tells business leaders 'now is not the time to lose our nerve'
Chancellor tells an audience of business leaders that the government's economic plan is working and now is not the time to change approach.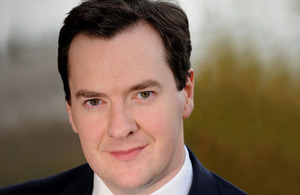 Speaking to an audience of senior business leaders and politicians at the Confederation of British Industry's (CBI), annual dinner, the Chancellor said that the government will "stick to its economic approach", which has seen the deficit cut by a third.
Now is not the time to lose our nerve.

Let's not listen to those who would take us back to square one.

Let's carry on doing what is right for Britain.

Let's see this through.
Drawing on his previous speech at the CBI's annual dinner, 3 years ago, days after he first took office, the Chancellor reaffirmed several government commitments. Commitments to economic approach; active monetary policy, fiscal responsibility centred on a credible deficit reduction plan, and far-reaching supply-side reform.
I said at that first dinner that the economic inheritance we faced was the worst any modern government had faced.

That there was no single lever we could pull to solve Britain's problems: just the painstaking work of reducing our record deficit, making our taxes competitive and rebalancing our economy away from an unsustainably large public sector to an unacceptably small private sector.

That was the course of action that I set out then.

It is the course of action we follow now.
Although the Chancellor acknowledged that recovery is "taking longer than anyone hoped", he highlighted the real progress that has been made.
1.2 million jobs created by the private sector.

The deficit down by a third.

The most competitive business tax regime in the G20 by 2015.
Responding to the announced rise in unemployment, the Chancellor accepted that there will always be "obstacles in our path", but that the most recent economic news has been encouraging.
GDP has been positive.

Surveys are better.

Confidence is returning to financial markets.

This is reflected in the Bank of England's Inflation report.
He thanked the CBI for its support for the government's deficit reduction plan and demonstrated how the government has done everything it can to support the private sector and "show Britain is open for business".
On the top rate of tax;

On corporate taxes;

On planning and employment law;

On schools and universities and welfare.

All have been hugely controversial – all bitterly contested – but all supported by business.
Attendees at the dinner also heard from president of the CBI and Centrica, Sir Roger Carr. This was Carr's final annual dinner address as president, as his 2 year term comes to an end next month.
Published 15 May 2013