News story
Chancellor says 'today's figures show that Britain is coming back'
Chancellor reacts to GDP figures while visiting Ebbsfleet, the site of what will be the UK's first new Garden City in almost a century.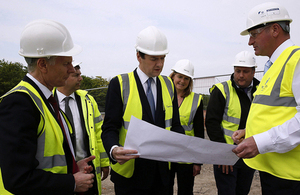 Following the release of the Gross Domestic Product (GDP) figures today (29 April 2014) for January to March 2014, the Chancellor said:
Today's figures show that Britain is coming back - but we can't take that for granted. We have to carry on working through our long term economic plan.

For the first time in a decade all three main sectors of the economy - manufacturing, services and construction - have grown by at least three per cent in the last year.

The impact of the Great Recession is still being felt, but the foundations for a broad based recovery are now in place. The biggest risk to economic security would be abandoning the plan that is laying those foundations.
He gave his reaction while visiting Ebbsfleet, the site of what will be the UK's first new Garden City development in almost a century.
While there, the Chancellor met companies, investors and other stakeholders that will be involved with the project.
Figures reveal that the economy has grown at its fastest rate in six years, over the past year and Ebbsfleet exemplifies how the government's long term economic plan is building a more balanced and resilient economy.
At the Budget, the Chancellor set out the ambitious plan for a major new development to provide up to 15,000 new homes around the high speed rail station, 19 minutes from Central London, in Ebbsfleet, Kent.
After years of untapped potential, the government is setting up a new Garden City Urban Development Corporation (UDC), with a mandate to build spacious, attractive, high quality places to live – modelled on popular garden cities like Letchworth or Welwyn Garden City.
The new Garden City in Ebbsfleet is part of a package of measures at the Budget, including the extension of the Help to Buy equity loan scheme, a £500m Builders' Finance Fund, extension of the Gospel Oak to Barking line to unlock housing development, the £150m Estate Regeneration Fund, reforms to planning and the Right to Move scheme. Taken together, these schemes will support over 200,000 new homes for families.
Photo by Denna Jones on Flickr, used under Creative Commons.
Published 29 April 2014