News story
Chancellor builds Northern Powerhouse with new funding for science and Atlantic Gateway in Liverpool
Package of measures announced to support the city's science and transport infrastructure.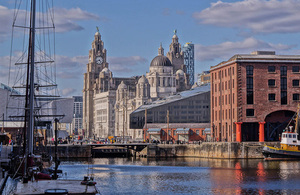 The Chancellor of the Exchequer, the Rt. Hon George Osborne MP, will visit Liverpool today (Thursday 3 July) to announce a package of measures to support the city's science and transport infrastructure.
The Chancellor will unveil a new £34.4 million transport package as part of the Atlantic Gateway project, which is building greater connections between Liverpool and Manchester and aims to create 250,000 jobs by 2030.
Today he will announce:
£10.4 million upgrade to the Halton Curve rail line to improve connectivity between Liverpool, Cheshire, Warrington and North Wales

£5.6 million to improve access and road safety around Knowsley Industrial Park

£4 million of improvements to A5300 Knowsley Expressway to maximise the benefits of the New Mersey crossing and access to Liverpool Airport

£14.4 million upgrade of the car parking and public transport connections on the Newton-le-Willows rail interchange link to Parkside
The Chancellor also announced today £22.5 million funding to support business growth in the North East - with special focus on rural communities over the next five years from 2015. Read more.
He will also reveal that the University of Liverpool and Liverpool John Moores University have been successful in their bid to create one of four University Enterprise Zones, with £5 million match funding from government.
The £15 million facility will house and support new high tech businesses around 'sensor technologies'.
Sensors are the crucial link between technological devices and the world around them, capturing data on a whole host of areas such as temperature, humidity and pressure.
They can be used in everything from home security systems to medical technology and high value manufacturing.
'Sensor City' will help inventions go from the lab to the factory floor even faster, and act as a shop window for foreign investment into the city's high tech start ups.
The Chancellor of the Exchequer said:
Our long term economic plan is about delivering jobs and growth across all parts of Britain, and three quarters of the net new private sector jobs created since 2010 have been outside London. But there is more we need to do.

Today I take the next step to build a Northern Powerhouse. I said we would back key infrastructure and science. Today I do that with £35 million in transport upgrades for the Atlantic Gateway and a new University Enterprise Zone in Liverpool.
Provost Professor Stephen Holloway, who led the bid from the University of Liverpool, said:
Creating a new space where ideas from our sensor research laboratories can be transformed into new start-ups is a very exciting prospect for both Universities and provides great opportunities for our students and staff.
Professor Robin Leatherbarrow, the Liverpool John Moores University PVC (Scholarship, Research and Knowledge Transfer) who led the bid for Liverpool John Moores University added:
This is a tremendous success for Liverpool and a superb example of how our two universities can work together in an area where we each have considerable complementary strengths.
Further information
The three other successful bids for University Enterprise Zones the Chancellor will announce today are:
Bradford (Leeds City Region)
Led by the University of Bradford, the University Enterprise Zone pilot will create "The Digital Health Zone", aiming to be the best place in the UK to innovate and grow businesses in communications-enabled healthcare.
The zone will be built around two bespoke facilities adjacent to the city centre: a Digital Exchange to support technology development and a Living Clinical Laboratory to pilot new products and processes in healthcare.
These facilities will house 140 groups from the digital and healthcare sectors as the core of a City Region cluster in this field, alongside 50 practitioners, carers, students and researchers delivering health services to the community.
Bristol
Led by the University of West of England in partnership with the University of Bristol, the West of England University Enterprise Zone will deliver a 4,000 sq m (33,000 sq ft) incubation and grow-on facility on the Frenchay Campus for businesses in Robotics and Autonomous Systems (RAS), Biosciences, Health Science and related sectors.
It will bring together business, academic expertise and networks in the two universities and the wider city-region, and access to advanced technical facilities and technical support, along with undergraduate and postgraduate placements, projects and graduate recruitment opportunities for businesses in the Zone.
Nottingham
Led by the University of Nottingham, a new Technology Entrepreneurship Centre will be created for the first time at Nottingham.
It will provide on-campus intensive support to external business start-ups and early-stage SMEs.
Delivered by Nottingham University Business School the Centre's technology/sector focus will be Big Data & Digital (including Satellite applications), Advanced Manufacturing & Aerospace, and Energy, aligned to national and local growth priorities - exploiting the proximity of existing UK-leading technology centres of excellence and the ready supply of highly-trained postgraduates.
Image by Beverly Goodwin on Flickr. Used under creative commons.
Published 3 July 2014
Last updated 3 July 2014
+ show all updates
Added link to speech which has now been given and is live.
First published.