News story
Chancellor: British businesses can capitalise on new opportunities
The Chancellor Philip Hammond has this week met with British businesses from all over the country to listen to their views ahead of his first Autumn Statement.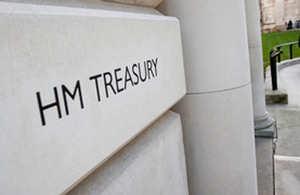 The roundtable events at the Treasury and Downing Street also included discussions around leaving the European Union, with the Chancellor urging businesses to make the most of the new opportunities that Brexit presents.
Mr Hammond told business leaders that the government will offer support to firms through any period of adjustment while Britain forges a positive and powerful new role for itself in the world.
The Chancellor met a wide variety of businessmen and women to hear their views on what actions the government can take to support economic and wage growth in an economy that works for everyone.
Attendees at the meetings have come from a cross section of Britain's leading business groups including the CBI, FSB and BCC where companies like BMW, British Airways, Sainsbury's, TSB and Shell UK and Ireland have all been represented.
The Chancellor also discussed boosting UK growth and productivity with senior executives from John Lewis, Rolls Royce, BAE Systems and CISCO in a dedicated roundtable.
The Chancellor said:
These discussions have been an excellent way to hear the views of large and small businesses, specialising in a range of industries and from all over the country ahead of my first Autumn Statement.

My message to businesses is clear: In our negotiations to leave the EU, we will work hard to get the best deal for Britain and that includes ensuring that British companies can continue to trade with the single market in goods and services.

We will continue to move forward positively and make the most of the opportunities that our departure presents by getting out and doing business across the globe, while at home building a Britain that works for everyone.

We have an opportunity to forge a new role for ourselves in the world, to negotiate our own trade deals and be a positive and powerful force for free trade and it is crucial that government and business work together to make it happen.
This week's roundtable discussions are part of the Chancellor's ongoing engagement with a variety of sectors including technology, clothing, food and manufacturing as well as meeting investors, importers and exporters. The next meeting will take place on Thursday (22 September) when the Chancellor will meet with a number of the country's most innovative firms to discuss disruptive technology.
Carolyn Fairbairn, CBI, Director General said:
It's fundamental that business and the government work together to navigate the challenges presented by Brexit, so we are glad our members have this valuable opportunity to engage with the Chancellor.

Business wants the openness of the UK's economy to be preserved – specifically access to markets, skills and trade – and to see an ambitious Autumn Statement that drives investment and growth, and delivers jobs and prosperity for all of the UK's regions.
Dr Adam Marshall, BCC, Acting Director General said:
As business digests the result of the EU referendum and the challenges and opportunities ahead, engagement between business and government has never been more important.

The ability to bring Chamber businesses of all sizes, sectors, regions and nations to engage directly with the Chancellor sends a positive signal to firms around the UK – all of whom want sustained action to support business investment and confidence.
Mike Cherry, FSB, National Chairman said:
We're really pleased to take FSB members into Downing Street to express their views directly to the Chancellor. It's clear from our discussion that small businesses are key to driving the economic growth and prosperity that we all seek. Following the decision to leave the EU, FSB members are already seeking to find new markets, capitalising upon opportunities and managing risks.

Small businesses are ready to work with Ministers, and at the meeting they raised key issues with the Chancellor around infrastructure, regional investment, skills, and tax – and delivering the business rates reforms announced in Budget 2016.
Sir Charlie Mayfield, John Lewis Partnership, Chairman, said:
I am delighted the government has placed such a priority on productivity. It is key to economic progress and improved prosperity in society generally. The impetus must come from business but with the government playing an active role to support that. We were pleased to have the opportunity to discuss how this can be done.
Meeting attendees:
Productivity roundtable (Monday 19 September)
Sir Charlie Mayfield, Chairman, John Lewis Partnership
Ian Davis, Chairman, Rolls Royce
Sir Roger Carr, Chairman, BAE Systems
Phil Smith, Chairman, CISCO
BCC roundtable (Monday 19 September)
Dr Adam Marshall, Acting Director General, BCC
Francis Martin, President of the BBC, BDO Northern Ireland
Yvette Etcell, Director, Gavin Jones Landscape Gardners
Tony Pidgley CBE, Chairman, Berkeley Group
Paul Goodfellow, Upstream Vice President, Shell UK and Ireland
Stephen Wright, MD, Thorite Group
Paul Farmer, MD, Wade Ceramics
Nagma Ebanks-Beni, Director, Prima Cheese
Susan Weir, CEO, Medicash
James Robinson, Director, PKF Francis Clark
Harri Lloyd-Davies, Partner, Bevan & Buckland
Paul Farmer, MD, Wade Ceramics
Ewan Lloyd-Baker, CEO, Hayward Tyler
FSB roundtable (Tuesday 20 September)
Mike Cherry, National Chairman, FSB
Martin McTague, Policy Director, FSB
Tony Baron, Director, Baron McGarvey Ltd
Nathalie Christmann-Cooper, Director, Treat Group Limited
Anthony Impey, CEO, Optimity
Lars Anderson, Owner, My Nametags
Anisha Hansrod, Director, Ecomo
Deborah Turner, Owner, You Consultancy
Neil Warwick, Partner, Square One Law
CBI roundtable (Wednesday 21 September)
Carolyn Fairbairn, Director General, CBI
Rain Newton-Smith, Chief Economist, CBI
Andy Milner, CEO, Amey
Dr Manfred Rudhart, CEO, Arriva
Patrick Olsen, EMEA COO, BlackRock
Graeme Grieve, CEO, BMW
Alex Cruz, CEO, British Airways
Wilfrid Petrie, CEO, Engie
Steve Varley, Chairman, EY
Adam Crozier, Chief Executive, ITV
Peter Ruddock, CEO, Lockheed Martin UK
David Tyler, Chairman, J Sainsbury
Paul Pester, Chairman, TSB
Published 21 September 2016