News story
Chancellor arrives in China to begin five day visit
Visit aimed at boosting economic links between UK and China.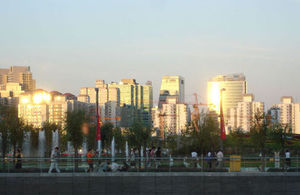 Chancellor George Osborne has arrived in China to begin a trip aimed at boosting economic links between the two countries. He will spend three days in Beijing before continuing on to Shenzhen, Guangzhou and then Hong Kong.
The Chancellor will deliver a speech at Peking University on Monday, and then visit one of Beijing's landmark new commercial developments - but the centrepiece of the Chancellor's visit is the 5th UK-China Economic and Financial Dialogue (EFD), which takes place in the morning of Tuesday 15 October. The location of the dialogue rotates between China and the UK.
As well as the formal EFD, the Chancellor is expected to have a number of bilateral meetings with senior members of the Chinese government and, along with Chinese Vice-Premier Ma Kai, the Chancellor will also co-host an investment roundtable for UK and Chinese CEOs.
On Tuesday evening local time, the Chancellor will host a reception to celebrate British creative industries, as part of the government's "GREAT" campaign.
The visit will then continue with a more commercial focus on Wednesday in Shenzhen and Guangzhou and on Thursday in Hong Kong.
The UK delegation for the EFD includes the Financial Secretary to the Treasury (Sajid Javid MP), the Commercial Secretary to the Treasury (Lord Deighton), the Science Minister (David Willets MP), Trade and Investment Minister (Lord Green) and the Deputy Governor of the Bank of England (Charlie Bean).
In addition to attending the EFD, the Financial Secretary is leading a delegation from the asset management industry. The Chancellor will also be accompanied for part of the trip by a delegation of tech business leaders, who will meet the Chancellor on Wednesday in Shenzhen.
Image by Paul Hickman on Flickr. Used under creative commons.
Published 13 October 2013