Challenge Prize semi-finalists reveal novel and engaging ways to tackle pressing social concerns
Fifty semi-finalists are now in the running for two £50,000 Challenge Prizes, which back innovative new ways to bring communities together.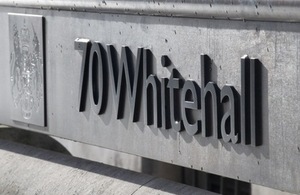 6 November 2012
Fifty semi-finalists are now in the running for two £50,000 Challenge Prizes, which will back engaging new ways to bring communities together to address pressing social issues, the Cabinet Office and Nesta announced today.
The Ageing Well Challenge Prize tasks organisations and groups to develop ideas to reduce the isolation or increase the mobility of vulnerable older people, while the Waste Reduction Challenge Prize will go to the innovation that achieves the biggest measureable reduction in waste.
Both competitions seek novel and ingenious ideas which provide new ways for people to give time, skills and resources. The Challenge Prizes are run by the Nesta, the UK's innovation foundation, and funded by the Cabinet Office.
The shortlisted projects have come up with a diverse range of proposals - from local wood collections and recycling schemes, to community-based travel schemes and new ways to help older people enjoy the benefits of exercise.
Each group of 25 semi-finalists will now compete for one of five finalist places in their respective category. Each finalist will be supported with money and advice to put their ideas into practice and, ultimately, the two projects which demonstrate the most success will each be awarded a £50,000 prize.
Minister for Civil Society Nick Hurd, said:
We want to make it easier and more compelling for people to get involved in their communities. That's why we set up Challenge Prizes to give organisations an exciting opportunity to come with ideas to help solve social issues such as tackling isolation in old age or reducing waste. There are some really great ideas among the semi-finalists which demonstrate just how creative and effective community-based projects can be.
Vicki Purewal, head of Challenge Prize design at Nesta, explains:
The number and quality of entries to the Giving Challenges programme shows that people do want to tackle the prominent social issues facing their communities, and that they have potential to make a big difference. Through these Challenge Prizes we want to develop these new ideas to make use of community-level giving to have a big impact on the pressing social concerns of isolation of older people and waste reduction.
Shortlisted projects
Examples of shortlisted projects include:
Eating and Meeting
The Intergenerational Bake-Off Project arranges for older people with a passion for baking to visit younger people in their community to swap skills, and hosts local inter-generational bake-off parties. Wheels to Meals collects people from home and take them to their chosen lunch venue to eat out with others.
Connecting people
The Radio Club develops the 'call-in' format to support older members of the community, allowing them to socialise live on air from the comfort of their home - chatting and sharing stories. The Reading Agency mobilises digital reading groups, while the Magic Lantern Film club plans to takes their mobile cinema club directly to people in their homes or care facilities.
Managing waste from food production
Proper Oils will make it easier to recycle household cooking oils, providing households with storage vessels and community collection points, while Grounds to Green will reuse and recycle coffee grounds in Brighton and Hove. FareShare Harvest will work with farms around Manchester to use 'outgraded' crops (those not meeting specification for retail) to make meals from produce that would otherwise go to waste.
Improving recycling
Bags of Goodies will reward the collection of small electrical items and textiles with a small donation given to a person's chosen cause or a voucher to spend with local retailers. The Museum of Bad Design will work with communities and manufacturers to improve the design of everyday objects so they are more easily recyclable. The Rubbish Diet plans to expand their programme which gets people to change their lifestyle by following a diet that also helps to reduce their waste.
Full list of Ageing Well semi-finalists:
• Age UK Cheshire East
• Age UK Exeter
• Age UK Lancashire
• Bexley Accessible Transport Scheme
• DiSC CIC
• Fair Shares Gloucestershire
• Gransnet
• Helen Platt Ltd
• London Borough of Camden
• London Play
• Magic Lantern Film Club
• NANA
• North Bristol Advice Centre
• Online Centres Foundation
• Plunkett Foundation
• Royal National Institute of Blind People (RNIB)
• Stonewall Housing
• Sustrans Limited
• The After Work Club
• The Fox and the Squid
• The Reading Agency
• Tottenham Hotspur Foundation
• Uniitee Ltd.
• USS Ltd
• West Midlands Special Needs Transport
Full list of Waste Reduction semi-finalists:
• Bag of Goodies
• Proper Oils
• ReclaimFun
• Sustainability One Stop Shop
• Community Textile Collection
• Workspring
• Quick Compost
• Grounds to Green
• The People's Kitchen
• VillagePowerCIC
• The London Orchard Project
• National Community Wood Recycling Project (NCWRP)
• Just in Time Food Network
• The Devon and Cornwall food Association
• Brixton People's Kitchen
• FareShare Harvest Champions
• Gleaning Network UK
• The Rubbish Diet
• The Restart Project
• Newmarket Open Door
• Compost Doctors
• Museum of Bad Design
• Wood Doctor
• Hackney City Farm
• Food rescue squad
Published 6 November 2012