Celebrating the centenary of International Women's Day
Foreign Office Minister Jeremy Browne has recorded a video message for International Women's Day.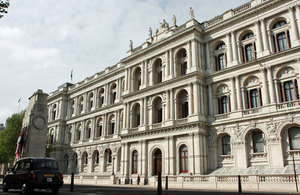 International Women's Day is an opportunity to celebrate the hard won achievements of women over the past century, and to reflect on ongoing challenges. Jeremy Browne is the Foreign Office Minister for Human Rights - watch his video message on the centenary of International Women's Day below.
Minister Jeremy Browne marks centenary of International Women's Day
The Minister discusses some of challenges that still persist for women around the world. For example, only 1% of the world's assets are in the name of women, and women hold only 12% of the seats in the world's parliaments. 70% of people in abject poverty are women.
The Government is working to address the challenges that women face, both in the UK and overseas. Equalities Minister Lynne Featherstone is the Government's Overseas Champion to tackle violence against women. Today, the Home Office launched the Call to End Violence Against Women and Girls: Action Plan. The Government is committed to delivering the work set out in it and will report annually to Parliament on progress.
Published 8 March 2011