World news story
Celebrating the birthday of Her Majesty The Queen in Zagreb
This was published under the 2010 to 2015 Conservative and Liberal Democrat coalition government
The Queen's Birthday Party in Croatia marked the launch of the British House in Zagreb - six organisations promoting UK.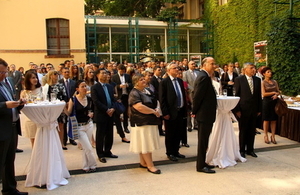 The British Embassy celebrated the birthday of Her Majesty Queen Elizabeth II at the Museum of Arts and Crafts in Zagreb yesterday. Around 400 guests joined us for this celebration, where the focus was on the partnership between the UK and Croatia.
Ambassador David Slinn said on this occasion:
For the Embassy, Croatian Accession to the EU has meant a different focus for our work, it is all about new partnerships. A very topical example of such a partnership is our joint work on Ending Sexual Violence in Conflict, and the holding of the Summit in London starting today where Foreign Minister Vesna Pusic will not only represent Croatia but also chair a Working Group as we work together to promote our shared values.

Further examples of our new partnership can be seen in our joint work on Commercial Diplomacy, our cooperation with the Information Commissioner, our work on Structural Funds, all designed to help Croatia make the most of EU membership, and this is work that will continue as one of the key themes of the Embassy's activity.
This years Queens Birthday Party in Croatia marked the launch of the British House in Zagreb. It is made up of the British Embassy, British Business Centre Croatia, British Council, Chevening Alumni Croatia, Bright Horizons – International British School and the United Kingdom Friendship Society, all organisations working in different fields in Croatia to promote UK and UK values and contributing to the development of relations between UK and Croatia in the new era of our partnership within the European Union.