Press release
Celebrating the best of Welsh culture at the National Eisteddfod
Festival is a great opportunity to promote Wales to visitors from all over the world.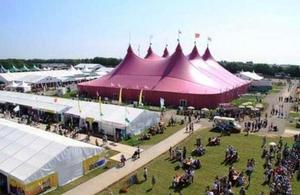 Wales Office Ministers Alun Cairns and Baroness Jenny Randerson will celebrate the very best of Welsh history, language and culture at the National Eisteddfod this week.
Alun Cairns MP – a fluent Welsh speaker – will visit the festival at the Millennium Coastal Park at Llanelli on Monday (4 August) for the first time in his official capacity as a UK Government minister.
He will meet Meri Huws, Welsh Language Commissioner and Ian Jones, Chief Executive of S4C at the festival where he will reiterate the UK government's support for Welsh language broadcasting. He will also meet representatives of the National Library of Wales and hear how they are commemorating the First World War centenary in Wales.
Alun Cairns said:
The Eisteddfod is the backbone of Welsh culture and has been at the heart of Welsh social and artistic life for more than 150 years and so I'm delighted to be attending for the first time in my official capacity as a UK government minister.

With up to 160,000 people set to attend, not only is the festival a major boost for the Welsh economy, but it is also a fantastic opportunity to sell Wales on a UK wide stage and beyond.
Baroness Randerson, who was previously Minister for Culture and the Welsh Language in the Welsh Government, will attend the festival on Wednesday (6 August) where she will meet the Welsh Council for Voluntary Action, the Farmers' Union of Wales and the Woodland Trust. She will also visit a replica of poet Dylan Thomas's writing shed which is currently on tour to celebrate the 100th anniversary of his birth.
Baroness Randerson said:
Events like the Eisteddfod remind us of the rich nature of Wales's culture and underline our ability to host major events and promote Wales to visitors from all over the world.

The festival also provides Wales with an excellent opportunity to market itself on a national and international stage ahead of the Nato Summit next month when Wales will have an unprecedented opportunity to showcase the very best it has to offer to a global audience of billions.
Photo courtsey of National Eisteddfod.
Published 4 August 2014