World news story
Celebrating the 20th anniversary of the British Council in Cuba
Since 1940 the British Council (BC) has promoted UK education and culture. This year BC is celebrating its 20th anniversary in Cuba.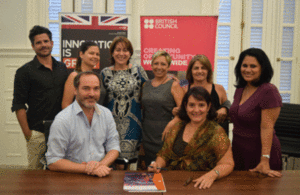 In a recent interview with Radio Habana Cuba, a popular and prestigious Cuban radio station, Minerva Rodríguez, Director of the British Council in Cuba, highlighted the most important objectives of this NGO for 2018. Among them, the continuation of the joint work with the Ministry of Higher Education of Cuba (MES) for the completion of the training of English teachers on the contents of the Common European Framework of Reference in 2020. This will ensure that all graduates of Cuban universities hold a B1 or B2 diploma in English language by then. In this sense, the BC will continue its collaboration with MES and the Ministry of Education (MINED) in the area of educational policies, in order to generate exchanges with experts from the United Kingdom and the Caribbean.
In arts collaboration, the work of this British institution will focus on three main manifestations: dance, music and cinema linked to animation. To this purpose, the BC proposes to continue developing projects with dance company Danza Contemporánea de Cuba and increase the exchange with DJs through the holding of workshops for the production of radio broadcasting materials. It also aims to celebrate a new anniversary of 'Selector Radio' programme, a space shared with Radio Taíno radio station for the promotion of UK alternative music. Minerva Rodríguez also commented that the BC will be participating in 'Cámara Chica' Festival in Pinar del Río on 3 and 4 February, an event aiming attention at audiovisuals made by children, adolescents and young people.
In a recent conversation with the British Embassy communications team, Minerva announced two important projects starting this year in the area of arts collaboration. The first one, aimed at developing capacity building and networking for young specialists in animation, had its prelude in the participation of four creators in the ANIMAE Festival that took place recently in Trinidad and Tobago and the second one, associated with SELECTOR PRO as an event for specialists in the music industry. The latter is oriented towards a more efficient work of artists managers in their approach to the artists they represent so as to succeed in placing them in international circuits and widen their business portfolio.
Minerva took the opportunity to thank the collaboration received from Cuban institutions and especially from her small but dynamic team.
An intense 2018 for the BC!
Published 6 March 2018