News story
Celebrating International Day of the Girl
Jo Swinson urges girls to be inspired and aim high.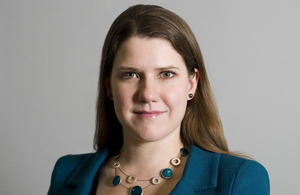 Equalities Minister Jo Swinson recently hosted a series of key meetings to discuss the growing pressures which modern society places on young girls, and how we can inspire the next generation of budding female scientists, engineers, mathematicians and business women.
Marking International Day of the Girl, Jo Swinson said:
"I want more girls to be inspired and to have the confidence to achieve their ambitions in life. That's why we need to be raising girls' aspirations and vision of all the ways in which they can be valued and fulfilled. Not through how they look or by conforming to a narrow range of gender stereotypes but to really inspire them to achieve their goals and dreams because of who they are. So International Day of the Girl is a great opportunity to really hammer this message home.
"Investing in the futures of girls and young women and inspiring them to aim high will not only reap rewards for them directly, but will also help build a stronger economy and increase our ability to compete in a global market."
Future investment
The meetings, attended by representatives from the media, women's rights campaign groups and women working in Science, Technology, Engineering and Mathematics (STEM) sectors, form part of an on-going work programme being progressed by government in response to the Women's Business Council (WBC) Report. A key recommendation of the report suggests that government looks at what more can be done to broaden girls' aspirations and job choices before the start of their working lives.
The government is supporting a range of activities to promote STEM education and careers through:
the STEMNET Ambassadors Programme
a new STEM Diversity Programme
progressing a programme of work in response to the WBC report, designed to broaden girls' aspirations and boost their careers choices
Research show that women are more likely to choose subjects that lead to lower earnings in work (for example, although women now make up over 50% of undergraduates in medicine and law, only 12% of engineering and technology and only 21% of maths and computer science undergraduates are women). See more key facts via our Women's Business Council infographics.
Published 11 October 2013