News story
Celebrate your shortlisted 2021 UK City of Culture City
Show your support for the 5 shortlisted cities before the winner is revealed on 7 December.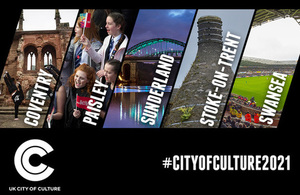 On the evening of 7 December, the 2021 UK City of Culture will be revealed. The winning city will be selected from a shortlist of 5 UK cities comprised of Coventry, Paisley, Stoke-on-Trent, Sunderland and Swansea.
How to get involved
In the run up to the winner being announced, we'll be shining a spotlight on each of these cities in turn through our social media channels on the following days:
Friday 1 December: #Coventry
Monday 4 December: #Paisley
Tuesday 5 December: #Sunderland
Wednesday 6 December: #StokeonTrent
Thursday 7 December: #Swansea
You can also show your support and get involved in celebrating what you love about each of these cities on these days on your social media channels by:
Sharing your messages of support for your favourite shortlisted city on their day.
Posting images and videos about your favourite places to visit and enjoy in these cities.
Sharing your stories and facts about what makes each shortlisted city unique.
Make sure you include your city as a hashtag alongside the #CityofCulture2021 hashtag to join the conversation.
About the UK City of Culture
The UK City of Culture is a designation given to a city in the United Kingdom for a period of one year. Derry-Londonderry was the first winner in 2013, followed Hull, which is the current title holder for 2017. Find out more about Hull 2017.
Published 30 November 2017