Press release
Cattle testing positive for TB to be DNA tagged
Cattle testing positive for Bovine TB are to be DNA tagged to further strengthen controls preventing spread of the disease.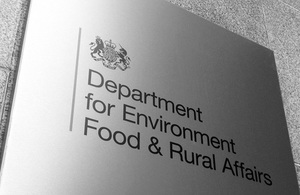 Evidence is emerging that some cattle farmers in the South West and Midlands may have been illegally swapping cattle ear tags. That means they may have been retaining TB-positive animals in their herds and sending less productive animals to slaughter in their place.
Retaining cattle that test positive for TB on a farm increases the risk of spread of TB to other herds and wildlife.
To strengthen deterrents, from mid-April cattle testing positive for TB will immediately be tagged and a sample of its DNA retained by Animal Health. These samples will then be cross-checked at random, or where fraud is suspected, against the DNA of animals sent to slaughter.
Agriculture Minister Jim Paice said:
"I am absolutely appalled any farmer would deliberately break the law in this way. The vast majority of farmers with TB in their herds are doing the right thing, and it's reprehensible that anyone should be trying to get around the tough measures that are helping to control TB in cattle. Anyone doing this sort of thing will be caught and have the book thrown at them.
"We are introducing this extra safeguard to minimise spread of this devastating disease to other herds and wildlife."
The alleged evidence of fraud has emerged from an investigation instigated by Gloucestershire Trading Standards, which reviewed TB cattle sent to two slaughterhouses. Investigations are now ongoing there and at slaughterhouses in the South West and Midlands.
The Bovine TB Eradication Group for England (TBEG) said:
"We are appalled at this emerging evidence of TB reactor fraud, and we strongly condemn any such behaviour. We urge the farming industry and the veterinary profession to continue to work together with the Government on the swift and decisive action announced today.
"We have given clear advice on what measures should be put in place quickly to tackle the problem. This suspected fraudulent behaviour by a few farmers should not be allowed to unfairly damage the reputation of the responsible majority or to undermine the TB control regime."
Notes
TB is a regional problem. Wales currently tests all herds annually and Scotland has been officially TB-free since September 2009. Large parts of England are mostly clear of the disease, with the majority of incidences being concentrated in the South-West and West Midlands. In 2010, approximately 6,000 of the 57,000 registered cattle herds in England were under TB restrictions.
All cattle herds in England are tested on a 1, 2, 3 or 4-yearly basis, depending on the risk. Herds with TB breakdowns are tested more frequently to clear infected animals from the herd as part of the process to lift TB movement restrictions.
In 2010, more than 41,000 routine and breakdown herd tests were carried out, covering nearly 5.5 million individual cattle. More than 24,000 reactors were disclosed through these tests. TB controls in England for the 2009/10 financial year cost Defra around £63m.
The Bovine TB Eradication Group for England (TBEG) is an advisory group to Ministers made up of members with experience of farming, veterinary, conservation and welfare issues.
Written Ministerial Statement
Bovine Tuberculosis (TB) Reactor Suspected Fraud
I wish to inform the House that I have received evidence suggesting that a very small minority of farmers in the South West and Midlands have been illegally swapping cattle eartags to retain TB test positive animals in their herds and sending other less productive animals to slaughter in their place. The suspected fraudulent activity is now subject to formal investigations.
If this kind of practice is taking place it is totally unacceptable. We are taking immediate action to prevent activity of this kind happening in future, and any farmer who tries to cheat the system should know that they will be identified and prosecuted. I should stress that the health risks to consumers from this suspected fraud are very low.
Anyone who retains TB test positive cattle increases the risk of disease spread within their herd, to their neighbours' herds, and to wildlife. We are moving quickly to introduce new measures to prevent this occurring in future.
In particular, from mid-April DNA tags will be applied immediately to cattle that test positive for TB. This quick action is only possible because of the commitment and support of the veterinary profession, for which I am grateful. Animal Health will then cross check, on a random sample basis and where there is any suspicion of eartag tampering, the DNA of TB test positive animals against the DNA of animals sent to slaughter.
I would emphasise that the vast majority of cattle farmers fully comply with TB control measures, but their considerable and tireless efforts to help us control this terrible disease risk being undermined by an irresponsible minority. I am confident that our quick and decisive action, including the DNA tagging of TB reactors, will help protect the interests of all cattle farmers.
Published 31 March 2011