Catherine Raines to be new UKTI Chief Executive
Dr Catherine Raines will become Chief Executive of UK Trade and Investment.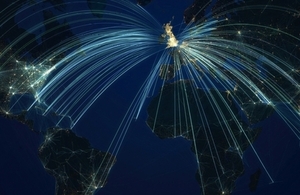 Dr Catherine Raines will become Chief Executive of UK Trade and Investment (UKTI) from 7 September 2015, following current Chief Executive Dominic Jermey's appointment to a new priority position as Foreign and Commonwealth Office (FCO) International Counter-Extremism Coordinator.
Currently Minister and Director-General for UKTI China, Dr Catherine Raines has more than 20 years' experience in FTSE100 business across the UK, Europe, the United States and China, where she variously held senior leadership roles in Operations, Corporate Development and Corporate Audit. Prior to joining the civil service, she also ran her own business as well as holding the role of Deputy Chief Executive at Staffordshire County Council. She takes up the post of UKTI Chief Executive after more than 2 years leading UKTI in China, having overseen an increase in UK business successes attributable to UKTI support from around £300 million a year to more than £3.7 billion.
Dominic Jermey joined the FCO in 1993 and prior to his role as UKTI Chief Executive was Ambassador to the United Arab Emirates, where pursuing UK interests in countering extremism was a key issue. In earlier roles, Dominic was based in Afghanistan with a focus on UK anti-terrorist objectives, led on the threat from Afghanistan-based extremist groups, and worked in Pakistan on Islamist issues affecting the UK. He will take up his new position at FCO on 4 September 2015.
Trade and Investment Minister Lord Maude said:
The world increasingly sees Britain as the best place to do business in and to do business from. UKTI has a central role in mobilising government support for exports and inward investment. We have made great progress, especially in attracting investment from overseas, where Britain's success among EU countries is second to none.

I am hugely grateful to Dominic for his leadership of UKTI, and wish him every success in his vital new role. I look forward to working with Catherine, who comes with a high reputation for leading change in both public and private sectors.
Notes to editors
UK Trade and Investment (UKTI) is the government department that helps UK-based companies succeed in the global economy. We also help overseas companies bring their high-quality investment to the UK's economy – acknowledged as Europe's best place from which to succeed in global business. UKTI offers expertise and contacts through its extensive network of specialists in the UK, and in British embassies and other diplomatic offices around the world. We provide companies with the tools they require to be competitive on the world stage.
Catherine Raines' career history is as follows: * Minister and Director-General, UKTI China, Beijing, 2013 to 2015 * Deputy Chief Executive, Staffordshire County Council, 2010 to 2013 * Owner, LiKailin Contemporary Fine Art, 2008 to 2010 * Vice-President Corporate Development, AstraZeneca, China, 2006 to 2008 * Head of Group Corporate Audit, AstraZeneca, London, 2004 to 2006 * roles including Global Head of Operations (Respiratory) and Director, New Products Introduction, AstraZeneca, 1998 to 2004 * Zeneca Pharmaceuticals, 1994 to 1998 * ICI Pharmaceuticals, 1988 to 1994
Catherine Raines has previously held Non-Executive Directorships with Pinewood Group, HM Land Registry, the Criminal Records Bureau, and the North Staffordshire Regeneration Partnership, and has also been a Trustee at the Whitehall and Industry Group.
Published 13 August 2015