Cashmere processing kicks off in Afghanistan, thanks to British and Belgian companies and the Ministry of Commerce and Industry
Cashmere Fibres International, a UK company, today announced that it had signed a contract with the Ministry of Commerce and Industry to begin cashmere processing activities in Afghanistan.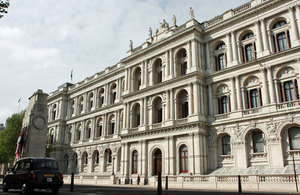 Ambassador Sir William Patey attended the signing ceremony at the Ministry, hosted by Minister of Commerce Anwar Ul Haq Alhady. A Belgian company, Traitex, also signed a contract with the Ministry at the ceremony.
The contracts represent a significant step up the value chain for the Afghan cashmere industry; the country currently exports unprocessed wool to its neighbours who in processing it capture most of the value added. But from now on, these processes will take place within Afghanistan.
The two agreements will lead to exports of scoured cashmere and wool worth an estimated $7.6m in the first year of operation, according to the Ministry. A number of direct jobs will be created, and approximately 10,000 jobs will be created indirectly for Afghan goat herders supplying raw cashmere. Also, these agreements could kick start further investment in Afghanistan in other parts of the cashmere value chain.
Speaking at the ceremony, Sir William Patey said: "It symbolises something much bigger happening in Afghanistan. As we look towards transition, we are talking about the gradual withdrawal of international forces to be replaced by Afghan forces. This is, I hope, the beginning of something very exciting in which military presence is replaced by the presence of our international companies as they begin to invest in this country."
He added: "I am very pleased to be here to see the beginning of what I hope will be many, many more investments by international companies cooperating with Afghanistan to develop the natural resources Afghanistan is blessed with."
David Lee, Director of Cashmere Fibres International, said: "If you take the example of other countries blessed with the natural resource of cashmere…in a very short space of time, they have developed a multi-billion dollar export industry of finished cashmere garments and products at various stages of process. We hope that together we can provide the firm foundation to build a similar success story in Afghanistan."
Whilst it won't solve all of the challenges facing Afghanistan as it moves towards full transition, the signing of these contracts and the economic development they symbolise is certainly auspicious.
Published 28 June 2011