Cash to wounded warriors: government commitment to support our troops beyond the battlefield
Cash payments for councils who have adapted the homes of wounded soldiers injured in the line of duty were announced today by Housing Minister…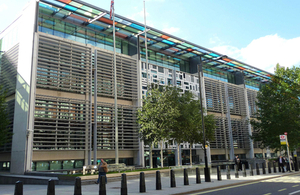 Cash payments for councils who have adapted the homes of wounded soldiers injured in the line of duty were announced today by Housing Minister Grant Shapps.
16 councils will receive a share of more than £200,000 funding for helping injured military personnel return to a home that meets their needs and adapt to their new life.
These councils serve areas that include armed forces bases, and together have helped 26 injured servicemen and women by making adaptations to their homes.
Housing help
Mr Shapps said the Government remains committed to support the housing needs of the brave men and women who put their lives on the line to protect our country.
As well as funding vital adjustments to the homes of injured personnel, serving and recently retired members of the armed forces are being put at the front of the queue for social housing and for assistance to buy their first home through the Government's FirstBuy and HomeBuy schemes.
Last year, Grant Shapps wrote to all councils in England inviting them to strengthen their contacts with members of the armed forces community and encouraging them to sign up to a community covenant.
And in this week's Budget, the Chancellor announced an additional £100 million to improve military accommodation, and £3 million to double the council tax rebate for deployed military personnel - from 50 per cent to 100 per cent.
Funding for adaptations
The Minister announced the funding alongside the allocation of £180 million funding for next year for the Disabled Facilities Grant, which councils can use to pay for adaptations and facilities that enable people with disabilities to stay in their home.
Despite tough constraints on the public finances, Ministers have protected funding for the Disabled Facilities Grant programme. Councils in England can use the funding to provide better access to peoples' homes, and to pay for modifications, such as wider doorways and stairlifts, which help disabled people maintain their independence.
Grant Shapps said:
This Government's commitment to support our troops is not just about equipping them for life on the battlefield - it's about ensuring they are supported to live full, independent lives with dignity after service.

The extra funding for councils is making a life-changing difference to the brave men and women who have been injured in the line of duty. Instead of facing long stays in hospital or going into residential care, they can now live with their loved ones in the comfort of their own home.

We are committed to honour the sacrifices made by our military men and women, which is why we have also taken steps to ensure members of the armed forces are at the top of priority lists for all Government-funded home ownership schemes, and to end the unfair treatment of military personnel applying for social housing.
Funding for the Disabled Facilities Grant has been protected, and will total £745 million over the spending review period. Modifications can include installing ramps or widening doorways for easier wheelchair access; installing a stair lift or providing a downstairs bathroom to improve access to sleeping and sanitary facilities; or adapting heating and lighting controls to make them easier to use.
Notes to editors
1. All councils were invited to submit bids for funds to reimburse them for work for ex-services personnel. The reimbursement of £228,750 will go to 16 local authorities who applied and have carried out adaptations in the homes of ex-service men and women. They are:
Amber Valley

Blackpool

Bolsover

Crawley

Durham

Gateshead

Halton

Hastings

Havering

Merton

North Norfolk

North Tyneside

Rugby

Stroud

Waltham Forest

York
2. The Disabled Facilities Grant is made to Local Authorities under Section 31 of the Local Government Act 2003 and has been non ring-fenced since April 2011.
3. The grant can be used for adaptations that provide better freedom of movement into and around the home or to provide essential facilities. An occupational therapist will look at individual circumstances and recommend the type of adaptations needed. Acceptable types of work include:
widening doors and installing ramps
providing or improving access to rooms and facilities - for example, by installing a stair lift or providing a downstairs bathroom
adapting heating or lighting controls to make them easier to use
improving or providing a suitable heating system
providing suitable bathroom or kitchen facilities
improving access to and movement around the home to enable individual to care for another person who lives in the property, such as a child.
4. Any eligible disabled person can apply for a grant through their local authority, whether they are a homeowner, private tenant or local authority tenant. The council will arrange for an occupational therapist through social services to visit the home to assess which adaptations are needed.
5. A table showing the £180 million Disabled Facilities Grant allocations for each local authority can be found under 'Related downloads' on this page: www.communities.gov.uk/housing/housingolderpeople/.
6. Other support for current and former members of the Armed Forces include:
providing tailored support through housing experts visiting military bases to explain to service personnel how they can apply for new homes being built over the next few years
plans to change the law to give former servicemen and women with urgent housing needs high priority on social housing waiting lists - these plans are currently out for consultation; and
proposals to give councils greater freedom to dispose of vacant council homes at Right to Buy discounts to local people - which could include existing or former military personnel.
Twitter
Keep up to date with the Department by following us on Twitter (external link).
Media enquiries
Visit our newsroom contacts page for media enquiry contact details.
Published 23 March 2012