Press release
Cash boost for electric van man
Up to £8,000 off for buyers of the first wave of 7 plug-in vans.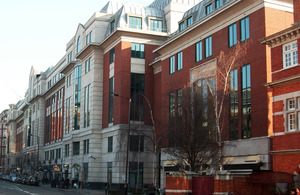 The first vans eligible for the government's new Plug-in Van Grant, have been announced by Transport Secretary Justine Greening and Business Minister Mark Prisk today (21 February 2012).
Van buyers will be able to receive 20% - up to £8,000 - off the cost of this first wave of 7 plug-in vans.
At an event today to launch the eligible vans, which was supported by companies such as British Gas and BT as well as the Ellen MacArthur Foundation, Justine Greening said:
Our new grant demonstrates that you can be a motorist and still be pro-environment.

Cars and vans are absolutely central to people's lives - it's how most of us get around and for many journeys they are, and will remain, the only practical and convenient travel choice. Nevertheless climate change is a global challenge we simply have to meet head on. It cannot be ignored or side-stepped.

The new Plug-in Van Grant - offering up to £8,000 off one of these 7 innovative vans - also makes business sense as it's been estimated that a small electric van will typically cost £100 less in fuel for every thousand miles driven compared to a diesel equivalent.
The way that vans are used and driven make them ideally suited to the switch to electric as they often have a predictable route and distance to travel each day; they make frequent stops; and many of them return to an overnight base where they can be easily recharged.
Business Minister Mark Prisk said:
Vans are essential to the smooth running of so many businesses and contribute enormously to the UK economy. An upfront purchase grant, when combined with lower running costs and tax benefits, can make switching to an ultra low carbon van an attractive choice for those businesses.

Now there are 7 different models eligible for that support van buyers should be able to choose one they find easy on the eye as well as on the wallet.
Businesses that run electric vans can benefit from reduced refuelling costs, are exempt from the van benefit charge, attract capital allowance concessions, and also receive a 100% discount for the congestion charge in the London.
The Chief Executive of the Society of Motor Manufacturers and Traders, Paul Everitt said:
The Plug-In Van Grant and today's detail on the 7 models eligible is excellent news for van drivers, operators, businesses and the industry. The savings on the initial purchase price, coupled with the tax advantages and very low running costs make a plug-in van an attractive proposition - particularly for those running local and back-to-base services.

Home to a high level of low carbon R&D and manufacturing activity, the UK is well placed to take full advantage of the ultra-low carbon vehicle sector. Incentives that support the development of a flourishing market will add to our competitive advantage.
The first seven vans to be made eligible for the grants are;
Azure Dynamics - Transit Connect Electric
Daimler Mercedes-Benz - Vito E-Cell
Faam - ECOMILE
Faam - JOLLY 2000
Mia-electric - Mia U
Renault - Kangoo ZE variants Kangoo VAN ZE, Kangoo Van Maxi ZE, and Kangoo Van Maxi Crew ZE
Smith Electric - Smith Edison variants SE2 and SE3
Gearoid Lane, Managing Director of British Gas New Markets, who have announced their ambition to have hundreds of electric vans in their fleets over the next few years, said:
Extending electric car grants to cover fleet vehicles is a positive step in lowering emissions on our roads. With our network of engineers repairing boilers around the country we are keen to include electric vans in our own fleet, with 100s scheduled to be introduced over the next few years. We are also at the forefront of helping people with their own electric cars by installing charge points in homes up and down Britain.
The eligible models are revealed on the same day a report is published by the Climate Group which shows the benefits low carbon vehicles can have if businesses adopt them into their fleets and provides companies with the advice and tools they need to make their good intentions a reality.
Ellen MacArthur, whose charity - the Ellen MacArthur Foundation - already uses an electric van, said:
We've been running a Renault electric van to help with the work of my Foundation and it is working really well for us. Today's announcement means people will have more choice about the kinds of vans that they can drive and I am pleased to support this initiative.
The Transport Secretary also announced today that the Mia Electric (Mia and Mia L models) has become the eleventh vehicle now eligible for the Plug-in Car Grant - a consumer grant of up to £5,000.
Notes to editors
The Department for Transport announced the continuation of the Plug-In Car Grant and the extension of the grant to eligible vans - the Plug-In Van Grant on 17 January 2012.
The Plug-In Van Grant provides purchasers with 20% off the cost of an eligible plug-in van, up to a maximum of £8,000. The grant is open to both business and private buyers, subject to state aid restrictions.
Further details about the Plug-in van grant, including the manufacturer application process and the criteria vans must meet to be part of the grant
Further details about the Plug-in car grants
Only vans which meet strict performance criteria for range, tail-pipe emissions and safety can be eligible for the Plug-In Van Grant. Van manufacturers can apply at any time for their vehicles to become part of the scheme.
The Transport Secretary announced the eligible vans at an event at County Hall, London. The event was attended by manufacturers of the vehicles eligible for the grant; business buyers who have already purchased, or may purchase, eligible vehicles; and other organisations with an interest in this field.
'Plugged-In Fleets: a guide to deploying electric vehicles in fleets', which has been authored by The Climate Group, Cenex and the Energy Saving Trust. This report estimates that a small electric van will typically cost £100 less in fuel for every thousand miles driven compared to a diesel equivalent.
As announced at the Spending Review, the government has made provision of over £400 million to promote the uptake of ultra-low emission vehicle technologies. This includes approximately £80 million supporting research and development activities; £30 million for the installation of infrastructure; and, £300 million to support consumer incentives for the life of the Parliament.
The government's assessment is that the number of installed chargepoints in the UK is more than 2,500, of which 765 have been delivered (to 14 October 2011) through the government's Plugged-In Places trials and the remainder through private sector organisations' investment. The private sector organisations have commitments to deliver approximately a further 4,000 points across the UK by the end of 2012.
News desk enquiries
Media enquiries 020 7944 3021
Out of hours media enquiries 020 7944 4292
Switchboard 0300 330 3000
Published 21 February 2012