News story
Case Study: Major Jase Smith
Major Smith was the first UK Contingent Commander for the UK contribution to United Nations Mission in the Republic of South Sudan (UNMISS).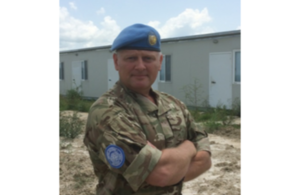 As the first UK Contingent Commander for Operation TRENTON, the UK contribution to UNMISS, Maj Jase Smith's role was critical to enabling the UK deployment and its subsequent missions and tasks.
The UN mission in the Republic of South Sudan is diverse and challenging as the country establishes itself following independence, civil war and tries to resolve an ongoing humanitarian crisis. Planning for and supporting the deployment of UK troops as part of an overall deployed military and police strength of approximately 12,500 personnel from a number of partner nations was a significant task for Maj Smith.
Working with the UN engineers and NGOs he is involved in planning tasks to improve and enable UNMISS' capability. He also provides the liaison with UK design teams regarding infrastructure development.
Speaking about his peacekeeping role with the United Nations, Maj Smith said:
An extremely challenging mission in a remote and austere environment such as the UN mission in the Republic of South Sudan is an amazing experience where I have learned a great deal about working in a combined, joint, inter-agency, multinational environment tackling the issues of establishing security and stability.

Serving within the UN is a hugely rewarding experience which I would recommend to anyone".
Published 7 September 2016