News story
Case Study: Lt Col Simon Doyle
Lt Col Doyle was employed in the UN Stabilisation Mission to the Democratic Republic of the Congo (MINUSCO), as the Force Chief of Plans.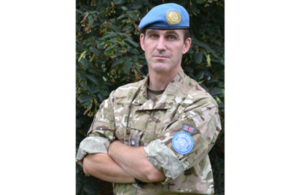 In his role with the UN Stabilisation Mission to the Democratic Republic of the Congo (DRC), Lt Col Simon Doyle was responsible for the development of military plans to neutralise illegal armed groups and protect civilians in the areas of Eastern DRC where the UN Force was deployed.
During his time in the country he was also the principal planning liaison officer between the Force and the civilian elements of the Mission, and with UNHQ in New York during the development of the 2016 UN Security Council Resolution on the DRC. During the recent period of unrest in Burundi, Lt Col Doyle was also responsible for producing peacekeeping contingency plans.
With 17,000 peacekeeping troops, and major contingents from 14 countries, MONUSCO represents the main opportunity for the international community to make a positive difference in this hugely challenging and complex country.
About his time in DRC, Lt Col Simon Doyle said:
For me, it was a lesson in how the skills, training and capabilities of UK peacekeepers can enable us to 'punch above our weight' in a major UN headquarters, as well as a chance to see the lessons we can ourselves learn from our increasing military contribution to UN Missions.

The deployment was a fascinating experience, giving me invaluable insights into both the UN and central Africa, and it was a privilege to serve in this varied multinational environment, sharing a common purpose.
Published 7 September 2016