News story
Case study: Lt Col Irena Dzisiewska
Lt Col Irena Dzisiewska recently deployed on the UN Multidimensional Integrated Stabilization Mission in Mali (MINUSMA).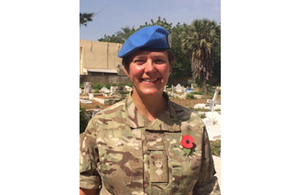 As a principal military planner in the MINUSMA Force Headquarters, Lt Col Irena Dzisiewska's role was critical to success.
The varied nature of the UN mission in Mali is significant, with 53 countries (as of 31 July 2016) contributing to an overall deployed military and police strength of approximately 12,000 personnel. Planning for the synchronisation of activity to support the stabilisation of the country was no small feat for Lt Col Dzisiewska.
Irena has also been placed as the principal planning liaison officer with the UN Headquarters in New York, reviewing mission progress and working within the headquarters to recommend the way forward for the new mission mandate in 2016. She was also the lead within the headquarters for policies related to countering improvised explosive devices (IEDs).
Speaking about her various peacekeeping roles with the United Nations, Lt Col Dzisiewska said:
With 53 contributory peacekeeping nations, alongside a diverse portfolio and a challenging mission, the UN stabilisation mission in Mali was a fascinating experience where I learned a great deal about working in a multinational environment with the civil and police pillars.

I was fortunate enough to attend the Female Peacekeeping Course before my deployment and have since returned to brief on subsequent courses in India, China and Nairobi.

It was a honour to serve within the UN and I would highly recommend the experience.
Published 5 September 2016