Careers profession task force report: Towards a strong careers profession
Publication of the careers profession task force report is welcomed by Dame Ruth Silver, chair, and John Hayes, Further Education Minister.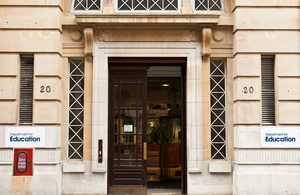 The Careers Profession Task Force has today published its report, Towards a Strong Careers Profession, setting out its vision for high-quality careers education, information, advice and guidance.
The report's recommendations are designed to uphold common professional standards and help raise the status and integrity of career guidance in this country. The report calls on careers professionals to work together to provide a strong and unified voice, to show professional leadership and to take responsibility for transforming careers advice for young people and their parents, who rightly expect excellence in the services they receive.
The task force was chaired by Dame Ruth Silver, DBE FCGI MA Dip Ed, Chair, the Learning and Skills Improvement Service, who said today:
I was delighted to be asked to chair the Task Force on the Careers Profession. This is a subject close to my heart, having devoted my own career to supporting young people and adults to make the most of their talents. I saw first hand as Principal at Lewisham College, where a professional culture pervaded everything we did, the critical role of career guidance in helping all members of the local community to succeed.
We owe it to all young people to give them the best possible support in making decisions about their future learning and work.
John Hayes, Minister for Further Education, Skills and Lifelong Learning, said:
This report highlights the importance of maintaining and strengthening a motivated, quality careers profession. We know that high-quality careers advice is crucial in helping young people make the right choices about their future careers and supporting vulnerable young people to overcome barriers to entering employment, training or higher education. This was also highlighted by Lord Browne this week in his report.
I welcome the Careers Profession Task Force report. Its findings and recommendations will inform the plans we are making to bring together guidance for young people and adults in an all-age careers service. I will take the opportunity to reflect further on the report when I speak on the future of careers advice at the Institute for Careers Guidance conference in November.
Further information
The full report is available to download from the publications section.
DfE enquiries
Central newsdesk - for journalists 020 7783 8300
General enquiries - for members of the public 0370 000 2288
Published 15 October 2010